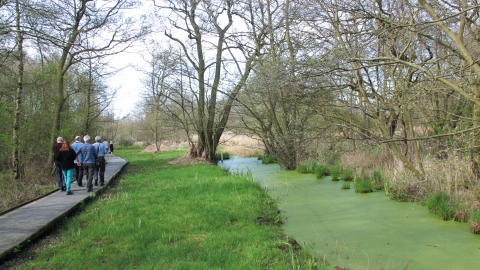 Askham Bog Nature Reserve
Magnificent royal ferns, rare gingerbread sedge and spectacular displays of water violets are to be found in this mosaic of fen, woodland and meadow. Askham Bog is remarkable survivor of the ancient fenlands of Yorkshire. It occupies the site of an ancient lake, left behind by a retreating glacier 15,000 years ago - the low hill to the south of the Bog, along which the A64 road runs, is the terminal moraine from that glacier.
Know before you go
Entry fee
Free
Parking information
Car park available at the entrance of the reserve.
Grazing animals
Exmoor ponies may be grazing during the summer months.
Walking trails
The boardwalk is a short loop which can be accessed at all times. Wellies are required for the rest of the site which is boggy with deep pools and ditches.
Access
Permissive footpaths. The boardwalk which loops around the reserve is accessible to wheelchairs and pushchairs.
Dogs
On a lead
Please keep all dogs to the boardwalk only.
When to visit
Opening times
Open at all times
Best time to visit
June to September
Askham Bog holds a special place in the history of nature conservation in Yorkshire: the very beginnings of Yorkshire Wildlife Trust.
About

The edges of the Bog, kept alkaline by water draining from the moraine, harbour the greatest diversity of plants and insects, including marsh orchids, marsh violet and meadow thistle. The colony of gingerbread sedge in Far Wood is the largest in England and some of the royal ferns are huge and probably very old.

The site is home to rare species of water beetle and moth fauna is exceptional, with rare species such as the fen square-spot. Birds are abundant, including woodcock, buzzard, willow and marsh tits, grasshopper and reed warblers. In winter huge twittering flocks of goldfinch, lesser redpoll and siskin feed on birch and alder seeds.

Roe deer and foxes are seen regularly, while overhead many dragonflies including the spectacular emperor can be seen on warm summer days.
Seasonal highlights

Spring: Invertebrates - Brimstone butterfly; Large red damselfly; Broad-bodied chaser; Amphibians - Common frog Birds - Willow tit; Buzzard
Summer: Plants - Marsh orchid; Marsh thistle; Water violet; Invertebrates - Migrant hawker; Birds - Spotted flycatcher; Hobby; Sedge warbler
Autumn: Plants - Royal fern; Gingerbread sedge; Invertebrates- Common darter; Birds - Redwing
Winter: Plants - Bog myrtle; Woodcock; Birds - Lesser redpoll, Siskin; Mammals - Roe deer
History

Askham Bog was purchased in 1946 by the famous sweet manufacturers Francis Terry and Arnold Rowntree and the Yorkshire Naturalists' (now Wildlife) Trust was formed to receive it as a gift. The site has been managed ever since to restore it to the haven for wildlife it once was.

Dating back to Roman times Askham Bog was used by local communities as a source of peat for fuel, resulting in a mosaic of habitats and a legacy of ditches, probably originally used for peat extraction.
Directions

Public transport
Buses stop adjacent to the nature reserve on the A64 and in the nearby village of Copmanthorpe. A cycle track links to both York and Tadcaster.

By car
Approaching York on the eastbound A64 take the A1036 turn off and then turn sharp left in the car park just after the first set of traffic lights.
Nearby