Donate in Memory
Dramatic cliffs, hay meadows brimming with flowers, vast expanses of sandy beaches, bluebell-filled woods – there's no better way to remember someone who loved Yorkshire and loved wildlife than to help protect our precious landscapes.
When you make an in-memory donation to Yorkshire Wildlife Trust, you can rest assured that you are making a real difference; helping us to look after over 100 wild reserves, inspire the next generation and stand up for wildlife wherever it's endangered.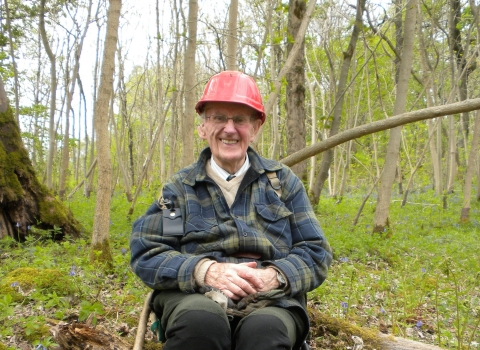 Tom Chalmers
Tom Chalmers was a stalwart supporter of the Trust for many, many years. His particular passion was Grass Wood where he volunteered tirelessly, leading work parties, maintaining records, planting trees and fundraising for the place which was his second home – he was even known in his local town of Grassington as Mr Grass Wood! When Tom died, aged ninety, his family knew the best way to honour his life was to ask for donations towards the Trust and reserve he loved so well. Tom's expertise, knowledge and good humour is missed by all who knew him, but his memory lives on in the wild space he looked after for so long.
How to donate

We work with you to make sure that making an in-memory donation is as easy as possible. Often churches or funeral directors are happy to collect and send donations to us, other families prefer to do so themselves. Cheques should be payable to Yorkshire Wildlife Trust and sent to 1, St George's Place, York, YO24 1GN with a note letting us know who the donation is in memory of and who we should thank. Alternatively you can donate here or set up an in-memory Justgiving page.


What kind of donation is right for me?

Many families choose to make a general donation to Yorkshire Wildlife Trust, and these are always gratefully received and of enormous benefit to our work. General donations enable us to respond quickly to threats and opportunities as well as carrying on our valuable day-to-day conservation work. If a particular reserve is very special to you and your family then you may wish to consider donating a gift of money to be spent on maintenance and upkeep on that reserve; alternatively, you may like to donate towards one of our projects or an aspect of our work. One family wanted to honour the happiness their parents found walking at Brockadale Nature Reserve by donating money towards woodland management there; another donated to an appeal to buy land in the Yorkshire Dales in memory of many happy days together in the countryside.

Some people prefer to donate a tangible item to the Trust and, where possible, we will work with you to make this happen – an up-to-date list of our current needs is below.

Alternatively, we have established in-memory sites in some of our more popular nature reserves; remembrance trees at Moorland and Staveley Nature Reserves; an undersea scene at the Living Seas Centre, and a reed wall at Potteric Carr so that people can remember their loved ones in a place that was special to them. Please do get in touch with us for more details.
Dedicating a tree: £25

Many people ask about scattering ashes or planting trees at their favourite reserves. As many of our nature reserves are Sites of Special Scientific Interest, we are unfortunately unable to grant most of these requests.

Dedicating a tree is a natural way to mark a memorable occasion in the life of people who are special to you, whatever the occasion. For £25 you will receive a personalised certificate and gift card. Please note that in order to keep our woods natural, your dedication is not marked in any way; it is a donation to a number of trees in a particular area, rather than one identifiable tree. Your gift will keep growing, and you will be helping to achieve our vision of an enriched natural environment, providing homes for local wildlife and for people to enjoy.