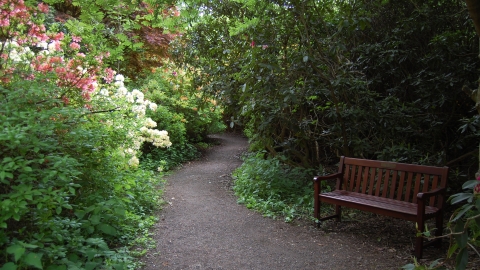 It has been an intense year and the nature reserve now needs some extra care.
Moorlands will be closed between 9am and 5pm every Tuesday beginning from 20th April 2021 to allow our volunteer team to catch up with essential maintenance work.
We regret any inconvenience this may cause and thank you for your understanding.
This small Edwardian woodland garden is part of the ancient Forest of Galtres and is ablaze with colour in spring. Snowdrop, primrose, daffodil and bluebell form a backdrop to a succession of mature rhododendrons, azaleas and maple.
Know before you go
Entry fee
Free
Parking information
Parking is allowed on the verge near the entrance gate but space is limited.
Walking trails
Permissive footpaths and wooden sculpture & nature trail
Access
Access through gates  off Moor Lane. Permissive footpaths may be muddy. Accessible for wheelchair users and pushchairs. More information below.
When to visit
Opening times
Open at all times except from 9am and 5pm every Tuesday beginning from 20th April 2021 until further notice.
Best time to visit
June to September
About

Moorlands is a beautiful small woodland with the additional attraction of spectacular collection of rhododendrons and azaleas, some of which are very old, large and unusual. These provide a succession of flowers from March to the end of June accompanied by a carpet of snowdrop, bluebell, primrose and wood sorrel.

The wealth of trees and flowering plants in turn attract many species of bird and mammal. A number of bat boxes have been erected and these have been successfully used by common pipistrelle and brown long-eared bats, with soprano pipistrelle, Brandt's and Daubenton's bats having also been recorded within the nature reserve.

From the tree house a great variety of woodland birds, including great spotted woodpecker, nuthatch and a variety of tits can be observed as they visit the feeders. Woodcock are occasionally seen during autumn, which is also an ideal time to find amazing fungi during a stroll through the leaf litter.  The trees are a source of great pleasure with some mature native species growing alongside the more unusual snakebark maple, magnolias and two dawn redwoods. There are two small ponds, the first of which has a large dipping platform to provide much interest to anyone with a net. A third secluded pond helps to feed to other ponds via a dyke.

Wooden sculptures and a nature trail, with waymarkers depicting the species found in the woodland can be enjoyed by families thanks to funding from Yorventure.
Seasonal highlights

Spring: Plants - Primrose; Cuckooflower; Marsh marigold; Rododendrons; Azaleas
Summer: Plants - Woodland ferns; Foxglove; Invertebrates - Common blue damselfly; Speckled wood; Mammals - Brown long-eared bat
Autumn: Fungi; Plants - Maple; Birds - Nuthatch
Winter:  Birds - Woodcock; Great spotted woodpecker
History

Mr Edward Grosvenor Tew bought Moorlands House and estate in 1909 and planted many of the rhododendrons and azaleas. The estate was then acquired by the Retreat in York for use as a hospital in 1940, before selling 17 acres to become Yorkshire Wildlife Trust's second nature reserve in 1955. Management of the site aims to both preserve the special character of the garden and to encourage native wildlife within the nature reserve.
Directions

Public transport
Buses using the A19 stop in Skelton.

By car
The nature reserve is about 5 and a half miles north of York. From York, take the A19 Thirsk road for about 3 and a half miles to Skelton. Turn right off the A19, continue through the village and the nature reserve is another 2 miles further on, on the left of the road. Parking is allowed on the verge near the entrance gate.
Accessibility
Many of our reserves are small and beautiful but remote. Visitors will have different access needs and abilities and we want to provide some basic information about the reserve to help you decide whether this is a place you would like to visit and to help you plan. 
Walking at Moorlands
From the reserve entrance a single footpath accesses the reserve and then splits to form a 1km circuit.
There is a pedestrian kissing gate at the reserve entrance which is accessible to some wheelchairs. There are no other barriers or steps along the reserve access path.
The surface is all compacted earth. There are numerous benches on the reserve and access is over flat and mostly even terrain. Some areas can become waterlogged in winter.
Transport
Parking for 8-10 cars either side of reserve entrance is in a narrow layby beside Moor Lane. Firm surface of compacted gravel by the reserve entrance. The verge opposite is muddy and poorly surfaced.
Facilities
The nearest toilets are at Haxby Shopping Centre two miles away. Pubs, cafes and shops are also in Haxby.
There is good mobile coverage throughout the reserve.
The What3Words code is loves.hardens.heartburn
 
Nearby