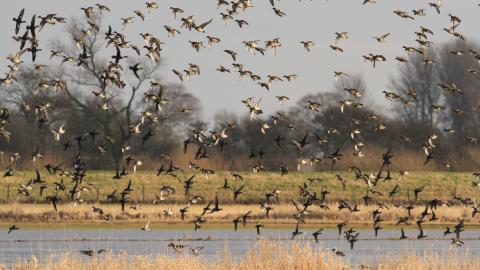 Wheldrake Ings Nature Reserve
Wheldrake Ings is subject to flooding and may be inaccessible at various times throughout the year. Follow @LDV_NNR on Twitter or Facebook for the latest updates.
Big skies, often full of whirling flocks of birds in winter, stretch out above you. The Derwent flows quietly by, reeds rustle in the breeze and a mysterious 'plop' in the ditches might signal a pike, water vole or even otter. In fact, at times in the centre of Wheldrake Ings, it can be so peaceful and remote that you feel like the only person on earth.
Know before you go
Entry fee
Free
Parking information
Limited parking available at site and more at Natural England Bank Island, with a footpath link.
Grazing animals
From late summer through to late autumn sheep and cattle are on site.
Walking trails
Permissive footpaths. The paths are level, but muddy after wet weather. Keep to footpaths as there are areas of deep water. The ground is often soft and slippery.
Access
Only accessible on foot along newly surfaced loose stone track. Kissing gate is not special access. This site is a natural floodplain and in winter floods from the river. Please ring Bank Island on 01904 449 589 or check the local Twitter feed: https://twitter.com/ldv_nnr for accessibility information. 
More accessibility information below.
When to visit
Opening times
Open at all times
Best time to visit
March to end June for breeding waders and meadows. November to end January thousands of migrating birds once flooded
About the reserve
A peaceful reserve with one linear route along the edge of the meadow. In winter the reserve is often flooded but hosts flocks of thousands of overwintering waders and wildfowl.  in summer, farmland birds nest here and make the most of rich supply of insects.    
About

For centuries Wheldrake Ings, at the heart of the Lower Derwent Valley Living Landscape, has been managed in a traditional way, which means you can still see habitats that have been here for centuries.

Spring is a time of vibrant growth on the Ings. As winter floodwaters recede the rich meadows begin to grow plants such as marsh marigold and cuckooflower are the first to add splashes of colour to the fields.

Tucked within the growing grassland waders such as lapwing, redshank and curlew start to raise their young. Flotillas of young duck families scoot into the overhanging willows around the pool edges. Late June sees the meadows at their best with some of the finest areas supporting up to 25 plant species per square metre.

Look for the crimson raspberry-like heads of great burnet and the cream sprays of meadowsweet. This type of meadow community is incredibly rare now and the area at Wheldrake Ings is of international importance. In early July the land is dry and the meadows are ready to be cut for hay.

By late August sheep and cattle are turned out to graze the re-growth of grass or 'fog' as it is known. In autumn, the meadows start to flood and impressive expanses of open water attract a spectacle of thousands of ducks, geese and waders. 40,000 birds use the Lower Derwent Valley each winter, with a significant proportion of these at Wheldrake.

The wetlands attract a wide range of birds. Spring and autumn can be exciting as migrant waders, terns and raptors pass through. Spotted crake, water rail and willow tit all breed along with many common waders and ducks. Marsh harrier, hobby and peregrine are all seen regularly with the chance of an osprey of black tern during migration.

The site also supports a host of grassland and wetland insects including some very rare beetles. Fish such as pike and rudd can be glimpsed in the ditches and otter have bred on the nature reserve on several occasions in the past few years.

Management here is a fine balance of controlling water levels to support the wintering, passage and breeding birds, whilst also creating the right conditions for the rare floodplain grassland to thrive. On top of this regular maintenance and cleaning of the ditches is required, which each winter receive silty deposits as the River Derwent bursts its banks and spreads across its floodplain.
Seasonal highlights

Spring: Plants - Marsh marigold; Cuckooflower; Birds - Whimbrel; Mammals - Brown Hare
Summer: Plants - Great burnet; Meadowsweet; Meadow vetchling; Invertebrates - Banded demoiselle
Autumn: Birds - Barn owl; Willow tit; Mammals - Roe deer
Winter: Birds - Whooper swan; Wigeon; Teal; Pintail; Peregrine
Directions

Directions

If coming from Wheldrake village, leave village and take sharp right, past Natural England offices and Yorkshire water depot on the left, turn next left by the deer crossing sign down and down Ings Lane to the car park.

Please do not obstruct the ramp onto the bridge as it is the only access route off the reserve.

Public transport
There is a regularly service between Wheldrake village and York Merchantgate (bus 36 to Sutton on Derwent and 18 to Holme Upon Spalding Moor). This service also passes through Skipwith, North Duffield and Bubwith. Please check with the local bus companies (Transdev and East Yorkshire Motor Service) before travelling as bus routes are prone to change.

By car
Eight miles south east of York, four miles east of the A19. From Wheldrake follow the road (Carr Lane) towards Thorganby and out of the village where the road takes a sharp right turn. 0.5 miles further on a narrow road to you left (after the Yorkshire Water compound) takes you down to the nature reserve. Park on the stony area next to the bridge over the River Derwent.

 
Accessibility
Many of our reserves are small and beautiful but remote. Visitors will have different access needs and abilities and we want to provide some basic information about the reserve to help you decide whether this is a place you would like to visit and to help you plan. 
Walking around Wheldrake Ings
As a floodplain, the site and accessible area is generally flat. There is one linear route which has been surfaced with chippings but can be uneven with pot holes, Grass grows through the track which is cut sporadically.
The site and car park can flood for three to five months of the year resulting in it becoming cut off by flood water, Following flooding, a lot of mud is deposited on the track and reeds, logs and debris on boardwalks making them slippy.  
Entrance to the bridge is over the metal bridge across the river Derwent and turn right. The main metal field gate is usually open and locked at night. A metal kissing gate to the side is inaccessible for prams and wheelchairs.
Transport
The car park surfaced with crushed stone can fit up to 8 cars but has no marked bays, Road to Ings Lane off the main road can be uneven. The car park usually floods in late autumn and throughout the winter.
More parking is available at Natural England Bank Island with unsurfaced footpath between the two sites.
Facilities 
There are two benches along the route and three hides.  
Tower Hide has steps both at the entrance and inside. Benches are provided inside, but no wheelchair viewing space.
Pool Hide: Door is standard width with a ramp. Moveable benches inside for viewing.  
Swantail Hide: Ramp at appropriate angle and width for wheelchairs but ground leading up to hide is uneven. Space and window height for wheelchairs.
Nearest accessible toilet is at Natural England's Bank Island Office with a radar key. 
Refreshments are available in nearby Wheldrake village.
Phone coverage is reasonably good throughout the site.
The What3Words code for the car park is constants.likes.tadpoles
Nearby