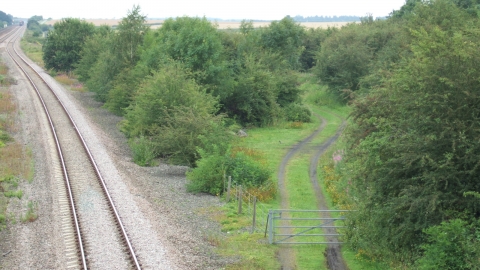 Bolton Percy Station Nature Reserve
Between 2021 and 2023 a Network Rail compound will be active at Bolton Percy nature reserve. Find out more information below.
Nature has taken hold of this old station yard - bramble scrambles over the old platform, flower-filled grassland grows where once there were rail tracks and scrub growth provides sheltered scallops filled with fluttering butterflies and moths in the summer months.
When to visit
Opening times
Open at all times
Best time to visit
June to September
Habitat
About

Once a railway goods platform and still lying next to the Leeds-York railway line, this nature reserve covers the old platform and bridge embankments. Areas of the ground are cindery, while in other places you can see the remains of dumped rail-track ballast. The plant life here suggests a limestone influence, with primrose growing on the neighbouring railway banks.

Wildflowers in the grassland areas include bird's-foot trefoil, dove's-foot cranesbill and selfheal. There is also a small lower lying damp fen area. The edges of hawthorn scrub on the boundaries are scalloped, providing sheltered areas where you can get good views of butterflies and moths including common blue, two species of burnet moth and latticed heath.

The scrub is controlled in the grassland area and some of the areas in front of the station platform wall to benefit the butterflies. Bat and bird boxes and habitat piles have been put up and created as part of the railway works.
   
Hedge bottom plants such as garlic mustard and red campion, along with longer areas of tussocky grass provide homes for gatekeeper, wall and small heath. Peacock and red admiral butterflies can be seen basking on the south east facing wall of the old platform, and bramble is controlled creating sheltered sun traps. Four amphibian species have been recorded here including great crested newt.
Seasonal highlights

Spring: Plants - Primrose
Summer: Plants - Red campion; Birds - Peacock; Lesser Whitethroat
Autumn: Invertebrates - Red admiral; Birds - Linnet
Winter: Birds- Bullfinch
Directions

Bolton Percy lies about three miles south-east from Tadcaster.

From Tadcaster: Follow Oxton Lane over the A64. Keep going for around 2 miles, passing Station Farm and crossing a railway bridge. 400m after the railway bridge is a sharp left turn. Follow this track 400m to another left turn; on this road cars can be left.

From Bolton Percy: Head towards Tadcaster. There is a sharp right turn as you leave the village, where you will see the cricket club to your left. The main road then bends to the left whilst another track continues straight – follow this track 400m to another left turn; on this road cars can be left.

Please refer to the map below with regards car parking.

The main section of the reserve is accessed through the gate at the bottom of the track. This main gate is locked to obstruct car access but just to the right is a pedestrian access gate. Go through this gate and turn left to get back onto the track behind the main gate. Network rail still retains access to the site so the roadway and gateways must not be blocked.
Accessibility
Many of our reserves are small and beautiful but remote. Visitors will have different access needs and abilities and we want to provide some basic information about the reserve to help you decide whether this is a place you would like to visit and to help you plan. 
Walking at Bolton Percy Station
There are two linear paths and begin at the reserve entrance. The first has a firm but grassy surface of compacted earth over hardcore and follows a slight slope up to the left from outside the main gate for about 250 metres.
The second path is through the gate and about 300m long on gravel and cinder surfaces. Access is via a hook latch gate. 
There are no benches or hides on the reserve.
Transport
There is limited parking at end of the quiet access lane on firm compacted hardcore surface outside the reserve entrance. Please do not block vehicle access gate.
Facilities 
The nearest public toilets are in Tadcaster three miles away. 
Refreshments are available in Bolton Percy 0.5 miles away. 
There is good mobile signal coverage throughout. 
The What3Words code is regret.clustered.monk
Network Rail compound
As part of the York- Church Fenton Improvement Scheme a Network Rail works compound will be active from 22 February 2021 - June 2023.
You may still access the nature reserve along the usual access tracks. We have worked with Network Rail to minimize the impact of the compound on wildlife and visitors to the nature reserve.
When the compound is dismantled the area will be restored as wildlife habitat alongside other habitat improvements to the nature reserve.
We hope that you are still able to enjoy the wayside plants, insects, birds, and other wildlife that frequent the nature reserve. If you have any further questions please contact us on 01904 659570.
Nearby