Under the big, wild skies at Spurn, there's adventures to be had.
Spurn point is Yorkshire's very own Lands End - an iconic and constantly moving peninsula which curves between the North Sea and the Humber Estuary. At over three miles long but as little as 50 metres wide, this landscape is unique and ever-changing.
Spurn has an extensive human history, leaving a legacy of fascinating but derelict buildings and hidden structures. But Spurn remains, and will always be, an utterly wild place. Always at the mercy of the elements, no two days at Spurn are ever the same.
Spurn is a National Nature Reserve which means the wildlife and habitats there are highly protected. Find out more about Spurn National Nature Reserve.
Nestled in among the ever-changing landscape, Spurn Discovery Centre is the perfect base to begin your adventure. From birdwatching to bracing walks and guided tours to family events, discover Spurn in a way that works for you.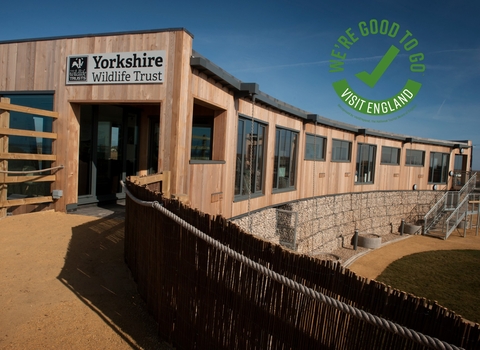 Keeping you safe during Covid-19
We're making sure Spurn is safe for people and for wildlife.
The visitor centre is currently closed, while the nature reserve is open for local visitors only. Please do not travel from across Yorkshire to visit Spurn!
If you are local and using Spurn for your daily exercise, please keep 2m apart from other visitors at all times.
Plan your visit this winter
Covid-19 has changed what we can currently offer at Spurn but we look forward to welcoming everyone back and opening up fully again as soon as we can. 
This winter, we have a reduced number of people working at Spurn and the Discovery Centre is currently closed.  Love and look after our wildlife and wild places by following signs on the reserve, keeping a safe distance from others and considering local residents. Please enjoy the reserve responsibly and help us by taking litter home and only walking your dog in permitted areas around the reserve.
Spurn National Nature Reserve is still open to local visitors who are using the reserve for their daily exercise during the third national lockdown. Please only visit with your household or with one other person if you are alone, and keep 2m apart from others at all times. Stay local, stay wild and stay safe!
What's open
✅ Nature reserve
✅ Car park
What's closed / cancelled
❌ Discovery Centre, indoor and take away cafe 
❌ Toilets - nearest facilities can be found a short distance away at the Blue Bell car park
❌ Bird hides
❌ Spurn lighthouse
❌ Bike hire
❌ Events including Spurn Safaris 
❌ Dogs are not permitted down to the point, but are welcome in other areas
Opening times

Nature reserve: Open at all times*.  Please visit the Spurn nature reserve page for latest information on tide times. Inclement weather may mean the reserve has to close on occasion.
Discovery Centre is currently closed
Café: The café is currently closed.
Car park: Open dawn 'til dusk.
Prices

Access to both the Centre and Spurn National Nature Reserve is free, but some activities and events will incur an extra cost.

Car parking:

Members of Yorkshire Wildlife Trust: free
Non-members / local residents: £5 per car for all day parking. This money goes directly back into managing and protecting Spurn!
Local residents (Easington parish): free with a permit -  please contact us for more information
How to find us

Address
Spurn Discovery Centre, Spurn Road, Kilnsea, Hull HU12 0UH

By car

Follow the A1033 from Hull to Patrington. Turn off (right) to the B1445 towards Easington and Kilnsea. Turn right at the T junction in Easington and continue along the minor road to Kilnsea. Turn right at the crossroads towards the Spurn Discovery Centre.

By public transport

You currently can't use public transport to reach Spurn.
Parking

A dedicated car park is available for up to 77 cars, including 4 disabled bays. The car park is located opposite the Centre, approximately a 5 minute walk away from the reserve entrance.

A separate coach parking area is available for up to 2 coaches and needs to be booked ahead of attending the site. This is located opposite the car park, adjacent to the Centre. Please contact us to book coach parks.

There are also 2 car charging units in the main car park which can be paid for at the café.

The car park is locked at dusk, reopening at dawn. No overnight parking is available.

Access to both the Centre and Spurn National Nature Reserve is free, but some activities and events will incur an extra cost.

Cost:

Members of Yorkshire Wildlife Trust: free
Non-members / local residents: £5 per car for all day parking. This money goes directly back into managing and protecting Spurn!
Local residents (Easington parish): free with a permit -  please contact us for more information
Facilities

We have a café serving hot and cold drinks, breakfast, lunch and light bites. There's also a shop for fabulous nature-inspired gifts and all important accessories such as binoculars! 100% of profits from sales of refreshments and merchandise go back into wildlife conservation.

Our Discovery Centre is fully accessible for wheelchairs and pushchairs with ramp access and automatic/push button doors. There are toilets (including disabled access) and baby-change facilities.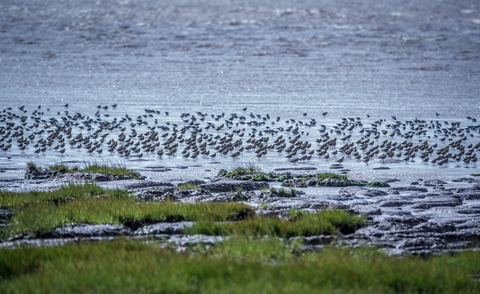 Your day at Spurn
There is so much to discover at Spurn, whether you've got an hour, half a day or a whole day!
Go on a bracing walk to Spurn point and discover Spurn lighthouse, stopping to watch wildlife along the way. It's three miles down to the point (one way) and the walk can be uneven and sandy. There is no access for vehicles and dogs aren't allowed (but see below for walks at Spurn that you can do with dogs!). Be sure to check the tide times before you set off, as you could be cut off from the mainland. 
 
Join us on a Spurn safari - a three-hour guided wildlife tour on our 'unimog', a specially converted ex-military vehicle!
 
Enjoy the birdwatching that Spurn has to offer, from our birdwatching hides along the peninsula, or include a visit to Kilnsea Wetlands as part of your day.
 
Stop by Spurn Discovery Centre for a cup of tea, slice of cake or spot of lunch.
 
Explore the Discovery Room, packed with activities and things to find out.
 
Join us at one of our events, from family-friendly activities to birdwatching experiences
 
Hire a bike to cycle down to the point
 
Follow our brand new story trail and join Spinny the spider on their quest for a new home! Perfect for exploring with friends and family - discover more.
Wow! Loved the new eco-friendly visitor centre and café – yummy! So clever – really have thought of everything.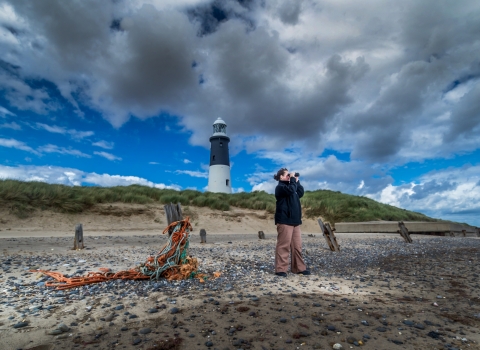 Birdwatching at Spurn
The birdwatching experience at Spurn is unparalleled. The unique landscape, big skies and mix of habitats attracts a wide range of species, including rare visitors and a stunning migration season. Spurn is a National Nature Reserve, protected for its internationally important wildlife and habitats.
There are four hides on the reserve, and nearby Kilnsea Wetlands is a short walk away. Pop into the Discovery Centre for latest sightings and advice.
If you're new to birdwatching, why not join us on a Bespoke Birding Tour?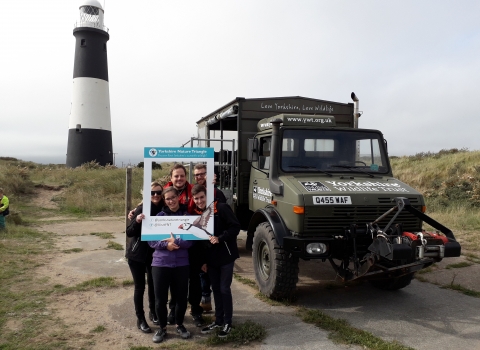 Join us on a Spurn safari
Our Spurn Safari tour will take you on a memorable journey across this unique landscape aboard a specially adapted ex-military, 4x4 truck – the Unimog.
You'll hear tales of the peninsula's fascinating military and maritime history complete the adventure, expertly told by our knowledgeable and friendly guides. The three-hour trip also includes a visit to the top of northern England's tallest lighthouse.
We also offer special Military Safaris, which explores the vast and fascinating military history of Spurn with an expert guide!
Discover more and book
Join us at an event
Covid-19 is impacting how we run our events and Spurn Safaris are sadly cancelled until at least early March.
Accessibility
Spurn Discovery Centre has an accessible entrance, accessible cafe and accessible toilet facilities. The car park has four disabled bays.
Spurn is a tidal island, with water cutting off the point from the mainland every high tide. The area of the washover is soft sand and constantly changing, and is not suitable for wheelchair users. The ground underfoot is uneven with trip hazards. There are wheelchair accessible routes around the north end of the reserve. From March next year, we hope to make a Boma 4x4 wheelchair available for hire (subect to conditions) which can be used to access the point.
Spurn Lighthouse is 128ft high with a steep and narrow staircase. The lighthouse is over a century old so and some stone floors and stairs may be worn and uneven in places.
Our Spurn Safari Unimog has a set of stairs to enter and leave the vehicle.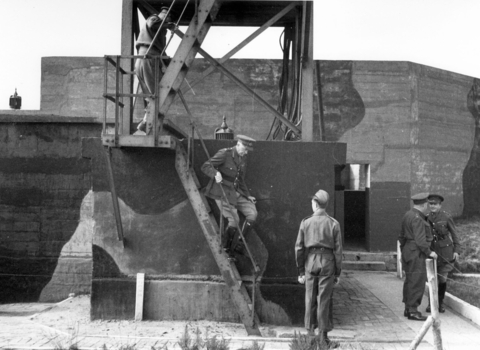 History of Spurn
Spurn has a long, diverse and interesting past - both natural and human.
The dynamic natural processes that created Spurn are still changing the landscape today. In December 2013, Spurn became an island as a huge tidal surge flooded large areas of the nature reserve and washed through the narrowest part of the peninsula. The road that used to lead to the point was completely destroyed.
Evidence of Spurn's historical past still exists, including the remains of a railway track, military tunnels, gun emplacements and more. Spurn Lighthouse was fully restored in 2015 and is open to the public.
Discover more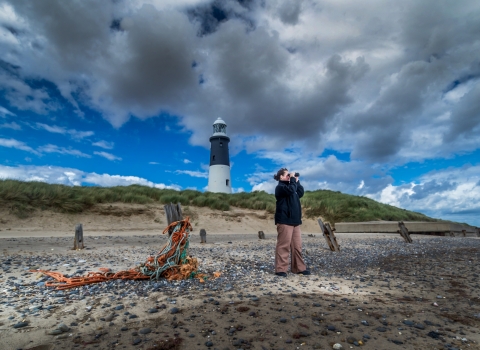 Spurn Lighthouse
Climb to the top of this 128ft tall lighthouse (the tallest in Northern England). The lighthouse is usually open daily on Friday, Saturday and Sunday and may open during the week during the summer and in school holidays. Ask at the cafe to see if the lighthouse is open when you arrive.
Prices for entry to the lighthouse:
£4 adults / £3 concessions
£2 children (must be at least 1.1m and able to climb stairs - no baby carriers allowed)
£10 Family  (2 adults and 3 children)
Tickets can be purchased at the lighthouse. It is free to enter the ground floor. 
Entry to the lighthouse is included as part of our Spurn Safaris.