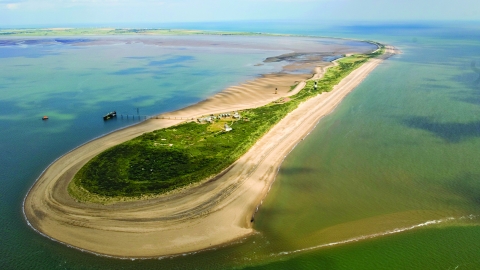 Spurn National Nature Reserve
Thank you for your patience during lockdown. We're delighted to announce that Spurn Discovery Centre is open once more - please see the grey text box further down the page for details of what is and isn't open.
Following new Government guidelines published 22 September, track and trace is now mandatory when dining in our cafes. Our preferred option is through the NHS COVID-19 app; please download before your visit. We have a manual backup if you are unable to use the app. Track and trace is now a legal requirement, and we must therefore refuse service to anyone who will not/does not wish to participate.
If you've visited one of our reserves, we'd love to know what you thought. Please help us improve our visitor experience by completing our visitor survey.
We are asking everyone to love and look after wildlife and wild places so please follow the signs on the reserve carefully, keep a safe distance from others and consider local residents.
Please be aware of tide times and to protect wildlife. Dogs are not allowed on the nature reserve.
Big skies and ever changing wildlife make the evocative landscape of Spurn one of the Trust's most iconic nature reserves. Whether you go by foot, bike or aboard a Spurn Safari (sorry – no vehicular access down to the Point) visiting is always an adventure.
Location
Know before you go
Entry fee
Free
Parking information
A dedicated pay and display car park is available on the approach road to the nature reserve, opposite the Spurn Discovery Centre. Parking is free for members of Yorkshire Wildlife Trust and residents. Please visit the Spurn Discovery Centre page to find.
Grazing animals
Hebridean sheep and longhorn cattle
Walking trails
Footpaths are open all the time (unless inclement weather closes the nature reserve).
Access
Please be aware of the following:
Tides: Strong currents and soft sand underfoot mean that it is very dangerous to enter the water on the wash over area as the high tide comes in and recedes – please do not make any attempt to cross the sands until all the water has gone. Make sure you get the most out of your day by checking the tide times (please see below) - and which are also on display at the Spurn Discovery Centre
Inclement weather - for safety reasons the nature reserve may on occasion be closed to the public. Please check back here before you visit for the latest updates.
Brown tail moth caterpillar: In the scrub around the base of the lighthouse, and along into Chalk Bank, you may notice what look like tents stretched between branches, which are in fact the overwintering silk tents of the brown tail moth caterpillar. Whilst for many these caterpillars are harmless, they can cause itchy allergic skin reactions or respiratory issues for those with asthma or hay fever – so please don't touch the caterpillars or the tents.
Limited accessibility for wheelchair users.
When to visit
Opening times
Open at all times (unless inclement weather poses a risk to visitors).
Car park open dawn until dusk.
Please see our Spurn Discovery Centre page for opening times of the centre.
Best time to visit
March to November