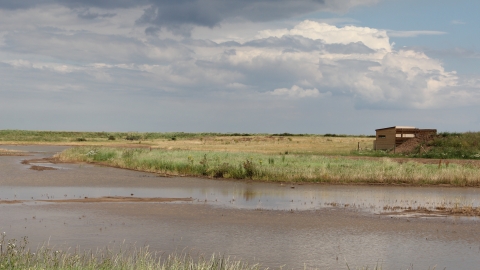 Kilnsea Wetlands Nature Reserve
This new nature reserve has been created to compensate for habitat being lost nearby on the eroding Holderness coastline.
Know before you go
Grazing animals
The nature reserve is to be managed sustainably using local livestock.
Walking trails
Paths are unsurfaced.
Access
Contact the Trust for disabled access information. Toilets are located in Kilnsea.
When to visit
Opening times
Open at all times.
Best time to visit
Summer
About the reserve
Update: Kilnsea Wetlands car park and access path to the hide will be closed on 23rd December 2016 to allow Northern Power Grid to renew/ replace bird diverters on the overhead electricity cables that pass over the reserve.   Kilnsea Wetlands is intended to provide refuge for passage and wintering roosting waders that leave the adjacent Humber mudflats at high tide to roost. Golden and grey plovers, knot, dunlin, sanderling and bar-tailed godwit should all benefit from this safe refuge. A variety of habitats will provide the conditions needed to support these birds, but this will take a number of years to reach its full potential. Freshwater and saline pools with islands and spits and wet grassland with seasonal scrapes will provide this site with roosting and feeding locations, but also hopefully he right conditions in the spring for breeding oystercatcher, ringed plover and lapwing.   Top Tip:   A visit in autumn or winter will give you a chance to see large numbers of roosting waders which this site has been specifically designed for. Check the tides to coincide your visit with high tide and you're likely to see greater numbers.     Engineering is only the start of this process – the nature reserve is to be managed in a sustainable manner using local livestock. This location is one of the driest parts of the UK, and without the ability to bring water on to the site from surrounding areas, functionality of the habitat will rely very much on rainfall and groundwater levels. Farmland birds including corn bunting and tree sparrow may well use the nature reserve as it develops. In time the grassland should become established and we hope this will provide some botanical value and interest, in turn supporting a host of insects including dragonflies. Salt-tolerant plant species such as spiral tassel weed may well find a home here too. A hide, viewing screen, and off road parking, long with a footpath route through the nature reserve leading to Yorkshire Wildlife Trust's Blue Bell Cafeé in Kilnsea mean this site is ideal for a visit   Discover Yorkshire's Wildlife Yorkshire Wildlife Trust's Discover Yorkshire's Wildlife book, which has detailed information on all of Yorkshire Wildlife and Sheffield Wildlife Trust's reserves, is available to buy now from our online shop. Public Transport The Spurn Ranger bus from Hull stops in Kilnsea. Directions Approach Kilnsea on Easington Road. The car park is on your left just after you go over the left hand bend which rises over Long Bank and before you reach Kilnsea village. Other information There is a dipping platform available for arranged visits. Please do not walk along Long Bank to the north of the nature reserve to avoid flushing the birds. Paths are unsurfaced. Toilets are located in Kilnsea.         Want to see more of Kilnsea Wetlands Nature Reserve before your visit? Have a look below. Kilnsea Wetlands Nature Reserve photos in our Flickr group