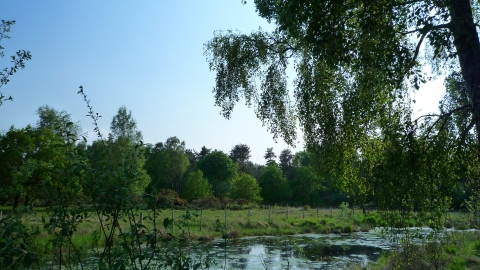 Allerthorpe Common Nature Reserve
Bees buzzing around sweet smelling purple spikes of heather, a green woodpecker 'yaffling' from the woodland edge, an adder shyly slithering into the undergrowth below prickly coconut-scented gorse bushes - all make up the sights, sounds and smells of Allerthorpe Common. The reserve is visited by roe deer, badgers and foxes. It is particularly rich in reptile, amphibian and invertebrate species.
Location
Know before you go
Entry fee
Free
Parking information
Free parking in FC car park of Common Lane
Grazing animals
Cattle
Walking trails
There are no formal paths on the reserve.
Access
Reserve is accessed by 500m walk along forest track.
When to visit
Opening times
Open at all times
Best time to visit
March to September
About

Allerthorpe Common is alive with wildlife throughout the year and supports a surprising range of habitats for such a small pocket of lowland heath - wet heath, dry heath, acid grassland, woodland, scrub and open water are all waiting to be discovered.

Ling heather, tormentil, sheep's fescue and wavy hair-grass grow on the drier areas of the site. Cross-leaved heath and purple moor grass grow in the damper areas as well as nationally rare May lily. Patches of gorse scrub provide shelter for birds and their network of roots support a healthy population of adders.

Areas of mature birch and willow woodland add another dimension to the site - great spotted woodpecker may sometimes be seen.

One large pool and several smaller ponds support numerous damselfly and dragonfly species including broad-bodied chaser and blue-tailed damselfly.

On-site grazing using rare breed cattle helps keep tree saplings and some of the coarse competitive grasses that can take over the heath in check. Volunteers also work regularly to control bramble and bracken that can become a problem and remove any birch saplings that the cattle have missed.

Read more about the origins of Allerthorpe Common below under 'history'.
Seasonal highlights

Spring: Plants - May lily; Reptiles - Adder; Birds - Green woodpecker; Woodlark; Willow warbler
Summer: Plants - Tormentil; Ling heather; Marsh cinquefoil; Invertebrates - Broad-bodied chaser
Autumn: Birds - Woodcock; Siskin; Lesser redpoll
Winter: Birds - Jay; Coal tit; Treecreeper
History

The history of Allerthorpe Common can be traced back to AD 1086 when it was recorded in the Doomsday book as Aluuarstorp. Discover more about its past from the download below.
Directions

Public transport
York - Hull buses stop at Barmby Moor village, 2.3 miles away.

By car
Turn south off the A1079 near Barmby Moor signed Sutton-on-Derwent and Thornton. Take the next left signposted Thornton, and parking is in a Forestry Commission car park 0.5 miles along this road on the right. From here cross the road and follow the forest track until you come to a line of pylons. Turn right and the nature reserve is a short distance along on your right.
Nearby