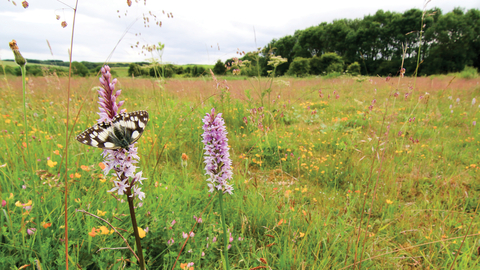 Wharram Quarry Nature Reserve
A species rich chalk grassland, Wharram Quarry is home to many of the characteristic flowering plants that thrive on the thin Wolds soil. Butterflies flit from flower to flower and in the sky you many see and hear the buzzards that nest in the nearby woods.
Know before you go
Entry fee
Free
Parking information
Limited roadside parking by the gateway available.
Grazing animals
Hebridean sheep in the winter.
Walking trails
Permissive footpaths. Keep to footpaths as straying from then can be dangerous as buildings and kilns are unsafe.
Access
Permissive footpaths. Please contact us on 01904 659570 for disabled access information. Further information below. 
When to visit
Opening times
Open at all times
Best time to visit
June to July
Habitat
About

The quarry floor has variable depths of soil and consequently different plant communities. The west of the reserve, where spoil was deposited, is now dominated by coarse grasses and hawthorn scrub. Several species of grasses can be found including cock's-foot, meadow and false oat-grasses, red and sheep's fescues, and quaking grass. Glaucous sedge is widely distributed.

The wildflowers present a beautiful scene, they include the yellow flowers of cowslip rough hawkbit, mouse-ear hawkweed and bird's-foot trefoil; the purple wild thyme and clustered bellflower; the pink restharrow and the blue common milkwort. Common spotted, pyramidal and bee orchids can all be found in June and July.
 
The quarry is one of the few Wolds sites for thistle broomrape which parasitizes woolly thistle. The endangered red hemp-nettle has been introduced from nearby populations along with small-flowered buttercup on the quarry face.

Butterflies abound on sunny days, including plentiful marbled white, small heath, meadow brown, ringlet and common blue. Dingy skippers can sometimes be seen, particularly in the north east corner.

In order to maintain the succession of plants, areas of the floor have been periodically scraped back to the chalk. To prevent the succession from open flower-rich sward to dense coarse grasses and hawthorn scrub the quarry floor is grazed with the Trust's Hebridean sheep in winter and parts are mown in late summer.
Seasonal highlights

Spring: Invertebrates - Dingy Skipper; Plants - Colt's foot; Cowslip
Summer: Plants - Thistle broomrape; Wooly thistle; Pyramidal orchid; Invertebrates - Marbled white; Small heath
Autumn: Plants - Autumn gentian; Carline thistle
Winter: Birds - Fieldfare; Redwing; Mammals - Stoat
History

The site was actively quarried for chalk between 1919 and the 1940s and was offered to Yorkshire Wildlife Trust in the 1960s by owner Lord Middleton after he noticed bee orchids growing on the quarry floor.
Directions

Public transport
Nearest train station is in Malton.

By car
At the crossroads on the B1248 in Wharram-le-Street, head west towards Birdsall and the nature reserve is about 0.5 miles on the left as the road descends. Parking is limited and in the gateway.
Accessibility 
Many of our reserves are small and beautiful but remote. Visitors will have different access needs and abilities and we want to provide some basic information about the reserve to help you decide whether this is a place you would like to visit and to help you plan. 
Walking at Wharram Quarry 
The ground is level but uneven. The reserve has a grassy and some stony ground and sits in the floor of a large old chalk quarry. 
An unmarked and unsurfaced informal permissive footpath of about 850 metres provides a circular loop through the chalk grassland of the reserve and takes about 20 minutes or longer to complete. There are no benches on the reserve.
There is a small kissing gate at the reserve entrance which is not accessible for wheelchairs.
Transport
There is parking for one vehicle on sloping rough gravel at the gate entrance, which is off a quiet country road but situated on a hill near blind corners.
Facilities 
There is no mobile coverage on the reserve.
The nearest public toilets and shops are in Malton about 7 miles away. There is a pub in North Grimston about 3 miles away.
The What3Words code is stated.limo.jumbled
Nearby