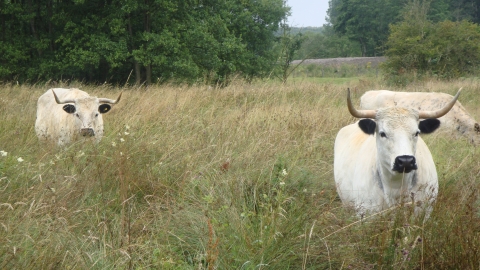 Jeffry Bog Nature Reserve
Jeffry Bog lies in the tranquil setting of Kirkham Gorge and offers a range of habitats, with an impressive range of wildflowers, including early purple orchid, bogbean and betony.
Know before you go
Entry fee
Free
Parking information
Parking is limited at the roadside; please be careful not to obstruct either of the farm tracks.
Grazing animals
Cattle graze the pastures during the summer.
Walking trails
Public and permissive footpaths. For a longer circular walk, park at Kirkham Abbey and follow footpaths to Jeffry Bog and back again. You will need an Ordnance Survey map.
Access
Access by foot along track from roadside or along riverside public footpath. Paths are unsurfaced, rough and of uneven terrain, not suitable for pushchairs or wheelchairs. More information below.
When to visit
Opening times
Open at all times
Best time to visit
June to September
About

Standing on the banks of the River Derwent, Jeffry Bog is a relic wet pasture with an important lowland marsh that is embraced by the Howardian Hills Area of Outstanding Natural Beauty.

Despite its small size, the range of different habitats make this an interesting place to visit, particularly during the spring and summer. In spring the grasslands are yellow with the flowers of cowslip and primrose, whilst in the wetter areas the large glossy heads of marsh marigolds can be seen. Other notable plants early in the season include early purple orchid. Adjacent to the nature reserve, areas of wet woodland known as alder carr will be coming into leaf.

By summer the cocoons of spiders and moths can be found among the tall grasses. The grasslands thrive with betony, great and salad burnet, and common spotted orchid. In the marsh, blunt-floweered rush, oval and brown sedges, and marsh arrowgrass can be found among the cream sprays of meadowsweet, cerise ragged robin and prominent yellow flag iris. At ground, level, some spiders can be seen carrying parcels of young whilst others guard territories. Damselflies and day-flying moths can be seen in abundance on warm, sunny days.

Keep an eye overhead as buzzards are a regular sight. Look along the riverbank as signs of otter presence are frequent, though this shy mammal is only rarely seen. Barn owls can be seen at any time of the year hunting for voles, though are most active when feeding young in summer. Kingfishers are a regular sight along the river, joined in summer by an occasional common tern and in winter by goosanders. There is historical evidence of farming on site, with remnants of ridge and furrow to be seen in the grassland. Today, Yorkshire Wildlife Trust grazes the nature reserve with cattle to help encourage wildflowers.

 
Seasonal highlights

Spring: Plants - Early purple orchid; Cowslip; Primrose; Marsh marigold
Summer: Plants - Marsh valerian; Betony; Invertebrates - Banded demoiselle; Yellow meadow ant
Autumn: Birds - Buzzard
Winter: Birds - Goosander; Barn owl
Directions

Public transport
Malton buses stop in Westow.

By car
Six miles south west of Malton, two miles east of Kirkham Abbey and about one mile north of Westow. Park cars at the roadside opposite the entrance to church farm being careful not to obstruct either of the farm tracks. Walk down the farm track opposite the farm to the nature reserve. The Centenary Way footpath along the river passes through the site.
Accessibility
Many of our reserves are small and beautiful but remote. Visitors will have different access needs and abilities and we want to provide some basic information about the reserve to help you decide whether this is a place you would like to visit and to help you plan. 
Walking at Jeffry Bog
An unsurfaced linear public footpath runs for about 500m from the roadside entrance to exit at the far boundary of the reserve - about 20 minutes each way.
Away from the footpath the terrain is particularly unsuitable for those with limited mobility or additional needs. A narrow grassy track leads to the first of two grassy fields. The foot-worn path continues down a moderate slope towards the river and entrance to the second field. It is then level but uneven with trip hazards as it follows alongside the river to exit the reserve at the far side of the second field.
In late spring and summer there is long grass in all areas. In winter, the path can become waterlogged in places especially near the river.
There is a standard kissing gate into the first field which is not accessible to wheelchairs or prams. There are smaller latch operated gates at the entrance and exit of the second field.
In the second field there are two narrow boarded bridges with hand rails and a couple of steps crossing a ditch and boggy hollow.
There may be fallen tree debris along the access track and entrance to the first field. 
There are no benches, hides or viewing areas.
Transport
Parking is on the verge near the reserve entrance - please be careful to avoid deep drainage ditch and do not obstruct the access track or next field gate.
Facilities
A pub and small English Heritage visitor centre are two miles away at Kirkham Abbey. 
Nearest accessible toilet is in Malton 4 miles away. 
There is mostly a good mobile signal throughout the reserve,
The What3Words code for the car park is strongman.paddocks.stowing
 
Nearby