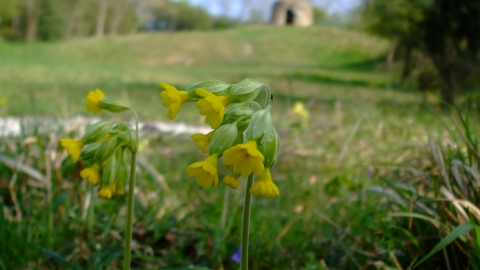 Chafer Wood Nature Reserve
Bluebells, ramsons and other woodland plants offer a tapestry of colour in this idyllic mixed broadleaved woodland nature reserve. The sounds of twigs snapping during an early morning stroll through this peaceful valley may alert you to passing roe deer. The views from the top of the wood across the Vale of Pickering are stunning.
Location
Know before you go
Entry fee
Free
Parking information
Limited roadside parking available.
Walking trails
Public and permissive footpaths.
Access
Steep, uneven and unsurfaced paths throughout the woodland.
When to visit
Opening times
Open at all times
Best time to visit
May to September
About

Chafer Wood supports an interesting variety of habitats and is home to a wide range of plants and birds.

The shaded lower parts of the valley are rarely exposed to sunlight and are therefore covered in delicate ferns and mosses. By the stream running through the nature reserve, woodland plants such as bluebells, baneberry, goldilocks buttercup and leopard's bane can be found, whilst a carpet of wild garlic (ramsons) fills the air with an oniony fragrance during the spring.

Roe deer are very much in evidence on the site and may well be encountered on a quiet stroll. Rare species of cranefly also thrive, as conditions in the valley bottom create the perfect habitat in which to breed.

Birds you might come across include nuthatch, redstart, blackcap, green and great spotted woodpeckers.

In addition to the woodland there are areas of limestone grassland that form small open glades within the trees.  
Seasonal highlights

Spring: Plants - Wild cherry; Cowslip; Bluebell; Birds - Redstart
Summer: Plants - Pyramidal orchid; Rock-rose; Invertebrates - Craneflies Birds - Green woodpecker
Autumn: Mammals - Fox; Roe deer
Winter: Birds - Sparrowhawk; Treecreeper
History

Before Yorkshire Wildlife Trust took ownership of the site in 1992, some areas had been used as a plantation, evident by small populations of introduced trees like sycamore and larch.

Management by the Trust is focussed on removing these introduced tree species and replanting with native species which are then protected from deer and rabbit damage.

Bracken is managed by cutting so it does not encroach and shade out other pants, whilst the open areas of limestone grassland are strimmed once or twice a year with the cuttings raked up to create habitat piles for insects to use.

Some historical interest remains on the site, including an ancient pinfold near the entrance which has been restored by the Trust.

A 200 years old structure, known as King Alfred's Carin also exists, although excavation in the 1950s of the cave beneath revealed human remains dating back to Neolithic times.
Directions

Public transport
The nearest train station is at Scarborough. A bus runs through Ebberston along the A170.

By car
From Pickering head east on the A170 to Ebberston. Pass The Grapes Inn and then turn left, north up a narrow lane. The nature reserve is found a short way up the lane on the left, with spaces to park alongside.
Nearby