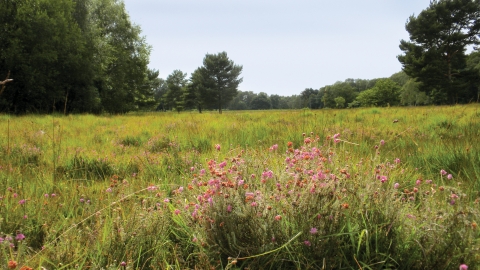 Strensall Common Nature Reserve
A fabulous large heathland close to York where the pink heads and grey green leaves of cross-leaved heath intermingle with the purple spikes and green foliage of ling heather. Common lizards bask on the stumps of silver birch.
Know before you go
Entry fee
Free
Parking information
Roadside parking. A central parking point is by the Common Road level crossing.
Grazing animals
Hebridean sheep graze during summer to keep down encroaching vegetation
Walking trails
Public and permissive footpaths.
Access
Public and permissive footpaths. The heathland is not accessible for wheelchair users and pushchairs.
When to visit
Opening times
Open at all times
Best time to visit
March to September
Habitat
About

Strensall Common forms part of a larger tract of internationally important lowland heath that lies within the Vale of York.

Close to the City of York, the nature reserve supports a mosaic of wet heath, dry heath, mire, open water, woodland and acid grassland. Over 150 plant species grow here including marsh cinquefoil, the beautiful blue marsh gentian and carnivorous round-leaved sundew. Ling heather and cross-leaved heath turn the heathland purple in August. Less showy, but just as pretty are the flowers found within some of the drier grassland; pinky-red sheep's sorrel and the tiny white crosses of heath bedstraw can be seen if you look closely. Visit on a warm August afternoon to enjoy the purple heather which carpets the common at this time of year.

Bold Southern hawker dragonflies patrol sheltered sunny areas and common lizards lazily bask on the old birch stumps. The Common is home to a host of insects including a nationally important population of dark-bordered beauty moth. Green and purple hairstreak butterflies occur here and bog bush-cricket live in the rushy grassland. Birds using the site include woodlark, green woodpecker, stonechat, coal and willow tits. Cuckoo breed and hobby sightings are increasing.

Conservation management here aims to maintain the open areas of heath. Grazing using Hebridean sheep has helped control birch seedlings. Bracken is controlled along with invasive coniferous species that are not native to heaths in this part of the UK. Ponds are cleared out from time to time, which maintains patches of open water.
Seasonal highlights

Spring: Reptiles - Common lizard; Birds - Cuckoo; Woodlark; Invertabrates - Four-spotted chaser;
Summer: Plants - Marsh Gentian; Cross-leaved heath; Invertabrates - Black darter; Birds - Green woodpecker; Hobby
Autumn: Fungi - Hoof Fungus; Fly agaric; Oyster Fungus; Birds - Siskin
Winter: Birds -Stonechat; Willow tit; Mammals - Brown hare
Directions

Public transport
A regular bus service from York runs to Strensall.

By car
Folow the A1237 from York into Strensall village, follow the signs for Flaxton. After a mile you cross a cattle grid onto Strensall Common. The nature reserve is to the left. There are various parking areas within the common – a central parking point is by the Common Road level crossing.
Nearby