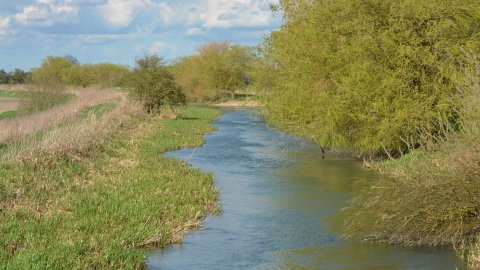 Skerne Wetlands Nature Reserve
The jewel in the crown of Skerne Wetlands are the UK's most northerly chalk streams, which are a nationally-important habitat in the headwaters of the River Hull. The West Beck, with its crystal clear waters, lush bankside plants and stunning beds of water crowfoot, is not to be missed in early summer.

Location
Wansford Bridge, Wansford (Snakeholm Pastures entrance - northern part of site)
Cleaves Farm, Skerne (Skerne Wetlands entrance - southern part of site)
YO25 8NX (Wansford Bridge) YO25 9HU (Cleaves Farm)
OS Map Reference
TA 0638 5600 (Wansford Bridge)
TA 0574 5428 (Skerne)
Know before you go
Entry fee
Free
Parking information
On roadside layby (Wansford) for northern section of site and small car park at end of long farm track (Skerne) for southern section of site.
Grazing animals
Cows
Walking trails
Public footpath at northern section (wansford).
Access
Grassed and gravelled footpaths and waymarked trail. More information below.
When to visit
Opening times
Open at all times
Best time to visit
March to June
About

This wetland complex covers over 110 acres, comprising wet grassland, over a mile of SSSI chalk stream, and more than 90 former commercial fish farm ponds, now re-worked into a mosaic of wet woodland, reedbed, fen and open water.

The West Beck is a haven for charismatic species such as wild brown trout, grayling, brook lamprey, water vole and kingfisher. In spring, beds of water crowfoot flower, providing a carpet of white among the gravel beds where the fish spawn. The clean, oxygen-rich water is home to a wide range of mayflies, caddisflies and other aquatic insects, attracting wagtails and other insect-feeding birds.

Skerne Wetlands is undergoing a major restoration programme to create a wetland paradise and a visit will always provide something new and exciting. Bitterns have been attracted to the marginal reedbeds in winter and otters are found along the chalk stream and their tracks and signs are plentiful. In late summer, muddy edges attract wading birds such as green sandpipers, whilst dragonflies may be seen scattered amongst striking stands of purple loosestrife.

 
Seasonal highlights

Spring: Birds - Yellow wagtail; Fish - Brook lamprey; Invertebrates - Orange-tip; Reptiles - Grass snake
Summer: Invertebrates - Emperor dragonfly; Fish - Brown trout; Mammals - Water vole
Autumn: Birds - Green sandpiper; Kingfisher; Invertebrates - Common darter
Winter: Birds - Bittern; Barn owl; Fieldfare; Redwing; Mammals - Otter; Roe deer
History

The River Hull Headwaters nature reserve was purchased in 2008 as two grass fields – Snakeholm Pastures, adjacent to the Wansford Bridge, some four miles southeast of Driffield, in the heart of East Yorkshire. Then, in 2011 Yorkshire Wildlife Trust bought what at the time was a commercial fish farm covering 33 hectares along with around a mile of the West Beck chalk stream.

This is now known as Skerne Wetlands and in 2014 the Trust completed the purchase of a further 12 hectares of land on the opposite side of the chalk stream to extend the nature reserve to more than 40 hectares and 2.4km (1.5 miles) of chalk stream.

The site complex of more than 80 former fish farm ponds is being developed into a mosaic of wetland habitat to include wet grassland, wet woodland, reedbed and open water. The latest section of the habitat creation, integrating the Copper Hall section of the wetlands into the reserve, completed in early 2018, thanks to a partnership between Yorkshire Wildlife Trust, the Environment Agency, Natural England, East Yorkshire River Trust and Yorkshire Water.
Directions

Public transport
Closest train station is Driffield. Bus to Wansford.

By car
Snakeholme pastures lies just south of Wansford Bridge off the B1249 southeast of Driffield. A small amount of roadside parking exists. Skerne Wetlands is accessed along a farm track just east of Skerne Village. Turn south off the road, left at the fork, right towards Cleaves Farm and follow the track past the farm to the end where parking is available.
Accessibility
Many of our reserves are small and beautiful but remote. Visitors will have different access needs and abilities and we want to provide some basic information about the reserve to help you decide whether this is a place you would like to visit and to help you plan. 
Walking around Skerne
At Skerne, tracks are a mixed surfaces of either grass or stone and are uneven along some sections, The terrain is flat but can be muddy, wet and slippy in winter. Waymarked paths take you around the site, with both circular and linear routes. The shortest walk is 1km but could extend, taking in more of the reserve for a 1.5km walk. The entire reserve is surrounded by drains and flowing water.
Parking 
There is car parking area on the reserve with a stoned surface for about eight vehicles. 
Facilities 
There are several benches and seating spread along the routes. There are two flat bridges – one with a slight slope down to it.
There are three viewing screens all with benches.
The nearest public toilets and amenities are in Driffield town centre – about 20 minute drive away
There is reasonable mobile coverage on the reserve depending on your phone provider.
The What3Words code for the car park is mass.landmark.loudness 
Nearby