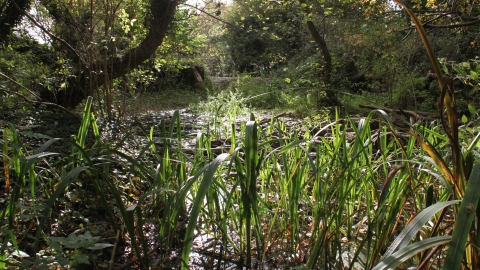 Step back in time with a visit to Keldmarsh, a remnant of the kind of habitat that would have once covered this area. Clear chalk springs bubble up in pools and flow through this secluded wet woodland. Impressive willow trunks scatter the site and wrens sing their clear song from fringing blackthorn thickets.
Know before you go
Entry fee
Free
Parking information
In layby on Lincoln Way
Walking trails
Permissive footpaths.
Access
Easy  access on foot.
When to visit
Opening times
Open at all times
Best time to visit
March to June
About

Keldmarsh is derived from the Scandinavian word for spring Kelda. This aptly describes the nature reserve, which in wet years sees several springs emerging, forming pools and streams of clear water. This water is fed by underground streams that run through the chalk bedrock. Where the chalk meets a layer of impermeable clay, water is forced upwards and emerges at the ground surface. Sadly in some years these springs can run dry, probably due to changes in surrounding land use and water extraction over the last few decades.
 
The site is covered by woodland which, due to changing ground conditions, appears to be making a transition itself. Crack willow and alder, trees fond of getting their roots wet, are giving way to young ash which survive better in the drier conditions. Some venerable ancient willows lie fallen, but their twisted trunks and stems still provide homes for wildlife in their nooks and crannies. Elderberry, hawthorn and blackthorn provide scrubby areas of cover and birds breeding on site include chiffchaff, blackcap and dunnock. Occasionally water vole will inhabit the site when water levels are high.

Some of the rarest species found at Keldmarsh are slime moulds. These strange 'growths' look like lichen or fungi, but are actually colonies of very tiny, primitive creatures, that act as one organism. Often found on wet, dead timber they can be seen to move if observed over several days. Wetland plants such as fool's water-cress, yellow flag iris and marsh marigold are found in and around the wet pools and common frogs are a regular sight.

 
Seasonal highlights

Spring: Plants - Dog's mercury; Herb-Robert; Amphibians - Common frog
Summer: Plants - Yellow flag iris; Marsh marigold; : Invertebrates - Red admiral; Small white; Orange-tip
Autumn: Birds - Song thrush
Winter: Birds- Long-tailed tit
Directions

Public transport
The nearest train station is Beverley, from which it is a 20 minute walk to the nature reserve.

By car
On the southern outskirts of Beverley. Turn off at Keldgate onto the A164 at the double mini roundabout, signposted Cottingham and Humber Bridge. At the next roundabout turn left onto Woodmansey Mile, then right on to Lincoln Way. Park in the lay-by on the left where the road bends round. Walk across a paved path and the grass to the nature reserve.
Accessibility 
Many of our reserves are small and beautiful but remote. Visitors will have different access needs and abilities and we want to provide some basic information about the reserve to help you decide whether this is a place you would like to visit and to help you plan. 
Walking at Keldmarsh
You'll find an earth track through shrubs and across a stream bed to access the site. In spring the stream is usually flowing so access may only be possible in wellies. The site is flat but uneven. This is a very small site that takes around 10 to 20 minutes to walk through.
There are no formal paths – desire lines have been created through the reserve.
There are no gates but you need to cross a stream bed with stones, branches and other trip hazards.
Parking
This is no parking. Please park carefully and responsibly on road in surrounding residential area.
Facilities
There is reasonable mobile coverage throughout the site. 
Nearest public toilets are in Beverley town centre about  10 minute drive away.
 There is a small group of local shops providing refreshments about a 10 minute walk away. 
Nearby