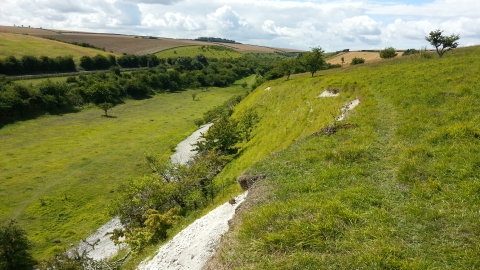 Kiplingcotes Chalk Pit Nature Reserve
A wander through Kiplingcotes Chalk Pit in high summer will reveal a riot of colour, with dozens of butterflies fluttering around an explosion of wildflowers in some of the sheltered spots and farmland birds such as yellowhammers singing from the scrub. A walk to the top of this old quarry will reward with lovely views back along the valley.
Know before you go
Entry fee
Free
Parking information
Hudson Way car park 300m to the west
Grazing animals
Hebridean Sheep
Walking trails
East Riding of Yorkshire Council (ERYC)-managed Hudson Way rail trail - from Market Weighton to Beverley.
Access
Steep/uneven terrain. Access is on foot only from the nearby Hudson Way car park.
When to visit
Opening times
Open at all times
Best time to visit
March to September
Habitat
About

Nestled in a narrow Wolds valley Kiplingcotes Chalk pit provides a haven for chalk-loving plant and animal species.

As vegetation colonises the bare chalk, different wildlife communities spring up as succession takes places over time. The first 'pioneer' species of lichens and moss colonise the quarry face and short-tufted grassland develops on the thin soils of the quarry floor supporting wild pansy, wild thyme and mouse-ear hawkweed. More established grassland on the quarry top supports common and greater knapweed, field scabious and burnet saxifrage.

Ant hills built by yellow meadow ants are scattered across the nature reserve and are characterised by being covered by springy beds of wild thyme – very fragrant when crushed. Some of these ant hills can be decades old and in the wider countryside are only found in areas that are not damaged by ploughing or mechanical cutting.

The nationally scarce red hemp-nettle is found here, as is a large population of basil thyme, which has undergone a huge decline in the UK. Butterflies typical of chalky soils occur in good numbers on the nature reserve including marbled white. Blackcap, bullfinch, and linnet can be found in the scrub, whereas in winter migrant birds pass through feeding on berries.
Seasonal highlights

Spring: Plants - Cowslip; Invertebrates - Brimstone; Birds- Willow warbler; Yellowhammer
Summer: Plants - Pyramidal orchid; Common spotted orchid; Common twayblade; Invertebrates - Dingy skipper; Marbled white
Autumn: Plants - Autumn gentian; Birds - Fieldfare; Redwing; Little owl
Winter: Birds - Red kite; Grey partridge; Buzzard
History

Quarried from the  1800s until 1902 the site was used to supply chalk during the building of the embankment of the Beverley to Market Weighton railway line, which opened in 1865.

Nature then took over with grassland flora colonising the site, with small areas of scrub also establishing. The open areas of chalk on the steepest 'scree' slopes are also recognised for their geological importance.

A wide range of formerly more common chalk grassland plant species are present, representing a relict habitat that once covered much of the Wolds landscape. 

The Trust has managed the site since 1965. Management has concentrated on keeping the grassland in good condition, with autumn and winter grazing by Hebridean sheep helping keep some of the rough competitive grasses in check, allowing finer grasses and flowering plants to thrive. Scrub and weed control is carried out and cutting and laying takes place to manage the hedgerow on the northern boundary.
Directions

Public transport
Nearest train station is Beverley, approximately nine miles east. Market Weighton is served by buses from York and Goole via Holme-on-Spalding Moor. The Hudson Way cycle route runs on a disused railway line between Market Weighton and Beverley. 

By car
The nature reserve is 2.5 miles north east of Market Weighton. From Market Weighton take the road signposted Kiplingcotes. Use the car park on the old railway line and walk 300m north east along the line – the nature reserve is entered through a kissing gate on your left. There is limited parking on the roadside and access is down some steep steps.
Accessibility 
Many of our reserves are small and beautiful but remote. Visitors will have different access needs and abilities and we want to provide some basic information about the reserve to help you decide whether this is a place you would like to visit and to help you plan. 
Walking at Kiplingcotes
There is a looped walk around the site which you can reach via a kissing gate and slope in from Hudson Way or steps from the roadside and a gate for the stock pen. There are steep winding steps with no handrails to the top of the chalk face and the chalk grassland can be slippy when wet. 
It takes about 30 minutes to walk round the reserve. You'll find a bench on the Hudson Way section.  
Parking
From Market Weighton take the road signposted to Kiplingcotes. Use the car park on the old railway line and walk 300m northeast along the line.
Facilities 
The nearest shops and toilets are in Market Weighton.
There is patchy mobile signal, depending on your provider. 
The What3Words code for the car park is eradicate.outboard.mergers.  
Nearby