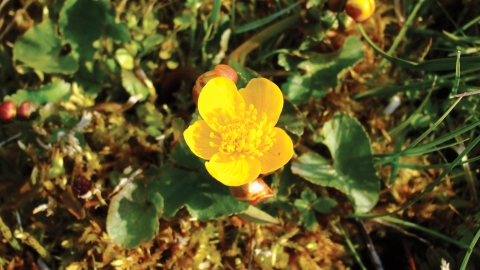 North Newbald Becksies Nature Reserve
In spring a visual feast of marsh flowers can be enjoyed at this spring-fed Yorkshire Wolds nature reserve, whilst later in summer marsh orchids abound. North Newbald Becksies is fed by several clear chalk springs which are almost never known to dry up.
Location
Know before you go
Entry fee
No
Grazing animals
Yes - cattle are used to graze the pastures during the summer
Walking trails
No footpaths.
Access
Limited access for wheelchair users as there are no defined footpaths. Please note wellingtons are advised as the ground is very wet. 
When to visit
Opening times
Open at all times
Best time to visit
March to September
Habitat
About

North Newbald Becksies is fed by several clear chalk springs which are almost never known to dry up. The water remains at a remarkably constant temperature of 9°C throughout the year and can be seen steaming on cold winter mornings. The terrain of the nature reserve is fairly undulating and in most areas extremely wet – wellies are a must; though there is a drier section at the north east corner.

In spring visit to see some of the early flowering spring plants such as cowslip, marsh marigold, cuckooflower, bogbean (a rarity in this part of Yorkshire) and water avens. A summer visit shows how much this wetland reserve flourishes, there are stands of honey-scented meadowseet as well as marsh orchid and lady's mantle, yellow rattle in flower. In autumn late flowering devil's bit scabious can be picked out amongst the abundance of vegetation.
 
Grass of Parnassus was recorded as recently as the mid 1990s and may still be present. Also keep an eye out for water shrews and water voles.
Seasonal highlights

Spring: Plants - Cuckooflower; Water avens; Bogbean; Marsh marigold; Inverterbrates - Orange-tip
Summer: Plants - Marsh orchids; Lady's mantle; Watercress; Fool's water-cress; Meadowsweet
Autumn: Plants - Devil's-bit scabious
Winter: Birds- Snipe
History

The marsh was originally used for pasturing cattle from the village while they were waiting to be milked and as such is classed as common land. Today, a small number of cattle are used to assist with site management through summer grazing.
Directions

Public transport
Irregular bus service from Market Weighton to North Newbald village.

By car
Just east of North Newbald village on the south side of the Beverley road, five miles south of Market Weighton. Park considerately in the village (or arrive by bus), and then walk the short distance to the site.
Accessibility
Many of our reserves are small and beautiful but remote. Visitors will have different access needs and abilities and we want to provide some basic information about the reserve to help you decide whether this is a place you would like to visit and to help you plan. 
Walking at North Newbald Becksies
This is a very small wetland site with visitor access but no designated footpaths. It is very wet underfoot all year round and wellington boots must be worn. Ecologically it is an important reserve and studied by naturalists and botanists.
There are two kissing gates onto the reserve. From springtime, Highland cow graze and roam freely on the reserve.
Parking
There is no official car park but a grass verge can accommodate four cars It sits on a quiet country road with little traffic. From verge to entrance is about 50m.
Facilities
Drewton farm nearby has a café and toilets. Market Weighton is nearest town with toilets and shops. 
There is a very poor phone signal at the reserve.
The What3Wods cvode for the entrance is threading.crinkled.loosens
 
Nearby