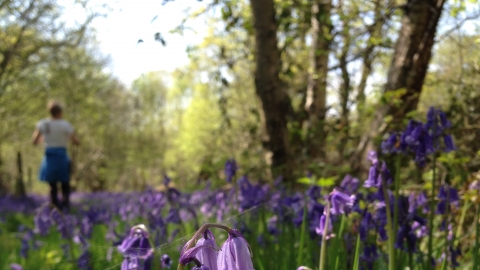 North Cliffe Wood Nature Reserve
A lovely woodland nature reserve rich in wildlife. In spring, a lilac haze of bluebells stretches out beneath the vibrant green leaves of birch, while the songs of a host of warblers can be heard all around.
Know before you go
Entry fee
Free
Parking information
Limited parking in roadside laybys
Grazing animals
Hebridean sheep graze the land in the spring
Walking trails
Marked permissive paths, some uneven terrain and rough surfaces.
Access
Limited for wheelchair users. Please note that in winter and after heavy rain footpaths can be soft and flooded locally. More information below. 
When to visit
Opening times
Open at all times
Best time to visit
March to June
About

Occupying flat land on the eastern side of the Vale of York, this woodland has a very varied structure comprising wet and dry mixed broadleaved woodland, a small reedbed, and areas of restored lowland heath. The lower lying western areas flood in most winters, providing suitable conditions for willow scrub. To the south of the main entrance there is an area of high oak forest, with a clump of multi-stemmed alders nearby, being evidence of coppicing activity that took place in the original forested landscape. In the south west corner there is substantial clearing of lowland heathland that supports typical species including ling heather, heath rush and common cotton grass. Several pools within the woodland and heathland areas provide homes for damselflies and dragonflies and grassy clearing within the wood are a hive of activity for summer butterflies.

In spring a stunning carpet of bluebells greets you and on a still day the scent of the flowers is irresistable. Grass snakes emerge from hibernation and can often be spotted basking in sunny glades or the edges of paths.

In the woodland canopy from spring and into summer, migrant warblers, including willow and garden, plus chiffchaff and blackcap, add their songs to the resident species, such as treecreeper, great spotted and green woodpeckers. In recent years, woodlark has colonised, adding their rich and evocative song to the chorus. Then head out onto the heathland and watch for solitary bees and wasps as they excavate their burrows in the sandy soils.

Autumn is the time to look to the ground and appreciate the diversity of fungi found in the woods. Also look out for flocks of Siskin feeding on the birch and alder seeds. The colours on the reserve are ever changing through the autumn with the leaves slowly changing, the heather coming into flower and the bracken dying off to a rich gold.

With the leaves off the trees winter is a great time to look for wood peckers, both green and great spotted can be seen as well as treecreeper working their way up tree trunks looking for invertebrates in the bark.
Seasonal highlights

Spring: Plants - Bluebell; Greater stitchwort; Primrose; Reptiles - Grass snake; Birds - Chiffchaff
Summer: Plants - Cotton grass; Birds - Garden Warbler; Blackcap; Invertebrates - Speckled wood
Autumn: Mammals - Fallow deer; Red deer
Winter: Birds - Great-spotted woodpecker; Marsh tit; Nuthatch
History

North Cliffe Wood was drained in the late 19th Century and the mature trees clear-felled in 1921. Bracken and rabbits were then able to fully exploit the sandy soils and prevent the regeneration of trees until myxomatosis destroyed the rabbit population in 1954. Conditions were thus set for the rapid spread of birch and mountain ash, the seeds of which are readily distributed by wind and birds respectively. These two species are still the most common trees in the wood today, although over 20 species have been recorded.
Directions

Public transport
Irregular bus service from Market Weighton to North Cliffe village.

By car
From A1079 Market Weighton head south down Cliffe Road. Then turn right after four miles down Sand Lane. Park on the left by the wood.

 
Accessibility 
Many of our reserves are small and beautiful but remote. Visitors will have different access needs and abilities and we want to provide some basic information about the reserve to help you decide whether this is a place you would like to visit and to help you plan. 
Walking in North Cliffe woodland
A woodland reserve with 3km of grass footpaths provide a circular trail around the reserve.
The routes can be very muddy during winter and there are lots of tree roots and uneven surfaces across the reserve. There are two spring pedestrian gates and a small bridge with no steps. 
Parking
Parking is on a grass verge at the reserve entrance and can accommodate four cars. This is on a quiet country road with little traffic. 
Facilities
Our North Cave Wetlands reserve is two miles away and has accessible toilet facilities. There is also a mobile café open Tuesday to Sunday 0830 – 1430. Market Weighton is the nearest town for shops and other amenities, 
There is a very good phone signal. 
The What3Words code for the entrance is searching.rental.widest
 
Nearby