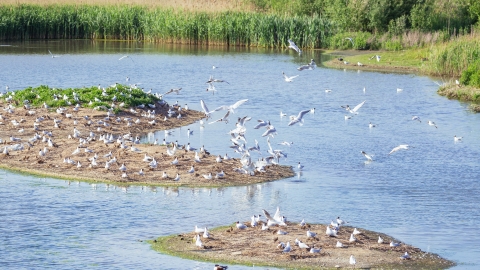 North Cave Wetlands Nature Reserve
We have now re-opened the carpark at North Cave Wetlands. Please be aware the toilets will remain closed. Hides will be closed where possible and we would ask all users to respect this. This is a very sensitive time for breeding birds, so please do not climb the banks.
Adhering to guidelines around social distancing will make your visit a safer, more comfortable and enjoyable experience. Please park 4 metres apart to give drivers and passengers 2 metres room for manoeuvre when leaving and entering their vehicles. Please close all gates behind you and take any litter home. We remain cautious about the risk the virus poses to communities and are therefore not encouraging travel to our nature reserves outside of the local area.
North Cave Wetlands is a true example of a 21st Century nature reserve, developed in the footprint of a large sand and gravel quarry. From spring avocets and common terns, summer dragonflies, to wintering flocks of wildfowl, a day spent here at any time of year will reward.
Location
Know before you go
Entry fee
Free
Parking information
Free car park on Dryham Lane
Grazing animals
Highland cows and Hebridean sheep
Walking trails
A circular footpath runs around the perimeter of the original section of the reserve, part of which is surfaced and accessible to wheelchair users, as are three of the four hides. Following Dryham Lane to the west from the car park, you will reach Crosslands Hide. This large, hexagonal hide is made from straw bales and has a living green roof. Some paths may close during bird breeding season.
Access
Permissive footpaths. Keep to the marked paths and do not enter the deep water.
Dogs
No dogs permitted
Dogs permitted along Dryham Lane only, not on the reserve
When to visit
Opening times
Open at all times
Car park open 0730 until dusk.

The Little Butty Bus is open from 8am til 2.30pm Tuesday to Sundays and Bank Holiday Mondays.
Best time to visit
March to September
About

A mixture of shallow and deep water lakes and reedbeds provide outstanding habitat for passage, breeding and wintering wildfowl, waders, terns and gulls. A 2km perimeter path gives access around the established nature reserve and five hides are positioned to give excellent viewing over key areas for birdwatchers and photographers alike.

Butterflies, dragonflies and damselflies thrive on the grassy banks beside the perimeter path; watch out for the emperor dragonfly and sometimes spy a water vole. There is a small colony of brown argus butterflies in the meadow between Main and Carp Lakes, access to which is opened in summer months.

Every season is a great time to visit North Cave Wetlands: During the winter the reserve has good numbers of wintering wildfowl and waders; spring sees the return of summer visitors which includes avocet, little ringed plover, oystercatcher, and a large black headed gull colony with Mediterranean gulls. North Cave also holds one of the largest breeding colonies of sand martins; in summer the reserve is full of fledgling birds, a wide range of dragonflies, grass snake and stoats; autumn sees the departure of summer visitors and the return of winter visitors along with many passage scarce birds.

And the good news is it's still a work in progress, so will continue to get better for wildlife and people!
Seasonal highlights

Spring: Birds - Little ringed plover; Avocet; Redshank; Sand martin; Sedge warbler
Summer: Invertebrates - Brown argus; Emperor dragonfly; Four-spotted chaser; Birds - Common tern; Hobby
Autumn: Invertebrates - Common darter; Birds - Migrant waders; Tree sparrow
Winter: Birds - Teal; Wigeon; Tufted duck; Water rail; Snipe
History

The original 40 hectare site was acquired by Yorkshire Wildlife Trust in 2001. In the following three years 250,000 tonnes of material was moved in, out or around the site to create a suitable open wetland habitat, with established trees confined to the boundaries and to the western end. Six large lakes provide both deep and shallow water with wide margins and islands, connected underground to give control over winter and summer water levels.

Starting in 2008 and finishing 12 to 15 years thereafter an additional 100ha of land to the immediate south and west is being quarried. This will be progressively restored with wildlife in mind before being gifted to Yorkshire Wildlife Trust.

 
Directions

Public transport
Nearest bus stop is North Cave village 0.5 miles away.

By car
Come off at Junction 38 of the M62/A63 and take the B1230 east to North Cave. At the first crossroad in the village, turn left onto Townend Lane and follow the brown reserve signs. If approaching north on the A1079 Market Weighton bypass take the minor road south through North Cliffe to North Cave then follow signs. The nature reserve is 15 miles west of Hull, of Cliffe Road on Dryham lane.
Mires Beck Nursery

Mires Beck Nursery is just next door to North Cave Wetlands - it's a perfect place to extend your visit! 

In addition to their 14-acre site and huge array of plants, they have a woodland walk and provide horticultural training for people who have learning difficulties.
Nearby