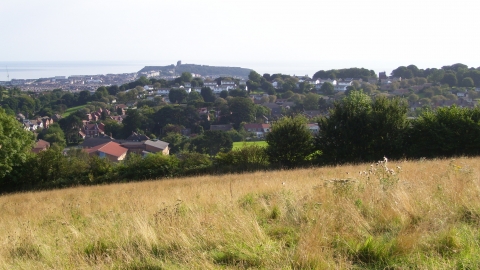 Harland Mount Nature Reserve
Set on a steep hill ascending out of Scarborough, this rough acid pasture and scrub woodland nature reserve offers beautiful views across the town and over the sea.
Know before you go
Entry fee
Free
Parking information
As the A170 Pickering road descends into Scarborough, you pass the Jacobs Mount Caravan Park on the right. Descend through the wood and then pull into House Cliff Lane on the right just past the first house. There is room for a couple of cars here, but p
Grazing animals
Grazed in spring and autumn
Walking trails
Permissive footpaths.
Access
Permissive footpaths.
When to visit
Opening times
Open at all times
Best time to visit
May to September
About

In the past this acid grassland has seen some improvement but now the pasture at Harland Mount Nature Reserve is managed by traditional methods to restore it to the species rich grassland it once would have been.

There are currently few rarities on site, but interesting and attractive species include ox-eye daisy and common knapweed flourish. The nature reserve is worth a visit simply for its unspoilt nature, as well as to take in the magnificent views afforded here.

The steeply sloping woodland bisects the meadows and is primarily a dense mix of ash, oak, elder and hawthorn. Yorkshire Wildlife Trust currently thins out the woodland to allow ferns and other flora to colonise more of the ground, making the most of the newly created lighter conditions. Bluebell, primrose and dog violet grow on the banks below the woodland.

There is a small dew-pond in the upper field that has long been dry and offers potential restoration in the future.
Seasonal highlights

Spring: Plants - Bluebell; Primrose; Birds - Whitethroat; Willow warbler
Summer: Plants - Dog violet; Ox-eye daisy; Invertebrates - Grasshoppers
Autumn: Fungi 
Winter: Mammals; Roe deer
Directions

Public transport
Nearest train station is Scarborough. Buses run from Scarborough to Jacobs Mount next to the site.

By car
The nature reserve is situated just off the A170 out of Scarborough, next to Jacob's Mount Caravan Park. There is space for three cars in the lay-by off the A170, but please do not block the lane. Follow the lane to access the site. Nearest facilities are in Scarborough town centre.
Nearby