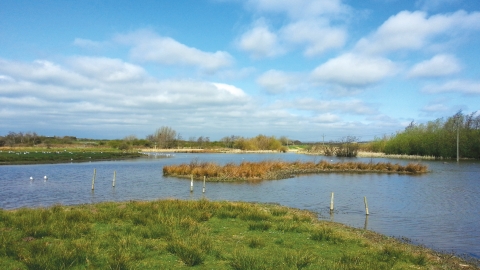 Filey Dams Nature Reserve
A tree surgeon will be carrying out essential tree safety work at Filey Dams nature reserve on Wednesday 22nd September from 9am onwards. As a result, much of the public areas will be closed or inaccessible for the majority of the day and there will be disturbance.
The last remaining freshwater marsh of any size in the area, Filey Dams is a magnet for migratory birds but is also a haven for plants, small mammals and amphibians.
Know before you go
Entry fee
Free
Parking information
Car park on the reserve.
Grazing animals
Cattle graze in selected surrounding areas of grassland.
Walking trails
Permissive footpaths and boardwalk.
Access
Wheelchair access to main hide and pond-dipping platform. Bikes to car park only.
When to visit
Opening times
Open at all times
Best time to visit
June to September
About

This quiet gem consists of large freshwater lagoons surrounded by marsh and grassland grazed with cattle. Soft rush dominates, joined in the shallow water by toad rush, bottle sedge and branched bur-reed and the distinctive yellow flag iris.

A short walk from the car park and the adjacent main hide takes in a small copse with nestboxes used by tree sparrows, and leads along a boardwalk to a pond-dipping platform at the edge of a quiet pool. Here dragonflies skim the water settling on the mat of amphibious bistort; the fortunate might see a water vole but are more likely to hear them crunching their way through the soft stalks of water forget-me-not. All three British species of newt occur here – smooth, palmate and great crested, the latter species in nationally important numbers.

Walk further along the boardwalk and arrive at the East Pool hide where close views can be had of water birds such as little grebe and migratory waders such as greenshank, green and wood sandpipers in the autumn. Across the pool the barn owl box may be occupied, the male often sitting nearby when displaced by his family.

The reserve boasts healthy populations of a variety of moths, including small rufous and old lady. In turn many of these provide food for bats that include Nathusius' pipstrelle and Daubenton's bat.

The nature reserve is leased from Scarborough Borough Council and is managed in partnership with Filey Brigg Ornithological Group, who record the species of the area and carry out routine maintenance.
Seasonal highlights

Spring: Birds - Broad-bodied chaser; Willow warbler; Sedge warbler; Mammals - Water vole
Summer: Amphibians - Great crested newt; Birds - Green sandpiper; Wood sandpiper; Mammals - Nathusius' pipistrelle; Daubenton's bat
Autumn: Invertebrates - Common darter; Birds - Ruff; Greenshank; Dunlin
Winter: Birds - Teal; Water rail; Tree sparrow
Directions

Public transport
Regular buses and trains serve Filey from Scarborough.

By car
From the roundabout on the A165, head into Filey and turn left at Wharfedale. Follow this road round to the left to the very end and drop down into the small car park. It is a ten minute walk from Filey railway station: turn right down Wharfedale and follow the long crescent round to the left and then along to the end. 
Nearby