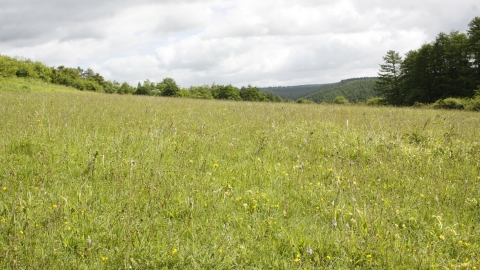 Ellerburn Bank Nature Reserve
A warm sunny day brings this limestone grassland to life, with colourful butterflies such as small copper and day-flying moths including six-spot burnet fluttering between vibrantly coloured meadow flowers. Skylark, with their distinctive flight and lilting song, breed in the adjacent fields.
Know before you go
Entry fee
Free
Parking information
Limited to 2 parking areas
Grazing animals
Sheep graze the land from September to December
Walking trails
Permissive footpaths.
Access
Access via footpath Dalby forest drive/Pexton Bank. No footpath in reserve, terrain is sloping but fairly even, narrow gateway and steep entry into reserve.
When to visit
Opening times
Open at all times
Best time to visit
March to September
Habitat
About

This excellent example of limestone grassland has never been farmed or worked in any way. Its thin, free draining soils support species such as rock-rose, cowslip and quaking grass. A few rarities can also be found here including some orchid species.

The meadows are generally at their most picturesque in June and July, an impressive sight for such a small nature reserve. Rabbits, foxes, badgers and roe deer are frequent visitors that leave telltale signs, whilst stoats can be seen whisking through the stems during the day. Adders are seen occasionally around the drystone wall. Butterflies breeding here include small copper and small skipper.

The field contains small amounts of hawthorn and gorse scrub and is bounded by woodland on two sides. The bushes and trees surrounding the site host willow warblers, bullfinches and yellowhammers. Buzzards breeds nearby and there is always the chance of an overflying goshawk or crossbill.

Situated on the shoulder of Pexton Moor the nature reserve slopes down into the valley towards Dalby Beck. Along the western edge of the site is an ancient earthwork that is thought to be a late Bronze Age double bank and ditch. This is a scheduled ancient monument on which management is limited.

Winter grazing using Hebridean sheep keeps young scrub in check and the sward healthy, allowing it to flower and seed throughout the summer. The patches of scrub that do not get grazed sufficiently by the sheep are mechanically managed to prevent spread into the pasture. The northern boundary is drystone wall and is maintained by Trust staff and contractors. Hedges are kept in good condition by 'gapping up' with mixed tree saplings that are protected by guards.
Seasonal highlights

Spring: Plants - Cowslip; Invertebrates - Brimstone; Reptile - Adder; Birds - Willow warbler
Summer: Plants - Fly orchid; Quaking grass; Invertebrates - Small skipper; Small copper
Autumn: Birds - Buzzard; Crossbill
Winter: Mammals - Stoat; Birds - Yellowhammer
Directions

Public transport
Regular bus services into Thornton Dale. Nearest train station is in Malton.

By car
From Thornton-le-Dale take the Whitby road for 11/2   miles and then turn right into Forest Drive. Two tracks lead to the site. The first passes a sawmill and the second is just past the entrance gate to Forest Drive. There is no parking by the entrance to the sawmill and there is an admission charge to enter Forest Drive. 
Nearby