We've gone digital, but we're still here!
The Living Seas Centre is our marine education hub, located right on the coast, where we inspire and enthuse people about the wonderful marine life we find off the Yorkshire coast. We're based at South Landing, Flamborough.
The Living Seas Centre is currently closed.
We've made the difficult decision to keep the Living Seas Centre and toilets closed as a drop-in point this summer, as remodelling and opening the centre and facilities safely is both unpractical and financially unviable.

The nearest toilets and facilities are in Flamborough and Bridlington – please support local businesses. Hopefully, we will be able to bring you a brighter update later in the year once we have evaluated how best to progress. Our aim is to continue to provide inspiring activities and experiences at Flamborough and share the wonders of our amazing North Sea coast and wildlife.

We are running some pre-booked events from the centre, the car park is open, and you can still enjoy the area, beach and woodland (discover more tips for making the most of your visit below!
In the meantime, we want to continue to inspire ocean lovers, and those who have yet to discover our amazing coast, during the coronavirus pandemic. 
We've put together all sorts of activities for you to enjoy from home - whether you live by the sea or miles inland! There is something for everyone, including school packs and an online talk series about our work for marine wildlife. Browse what we have to offer below!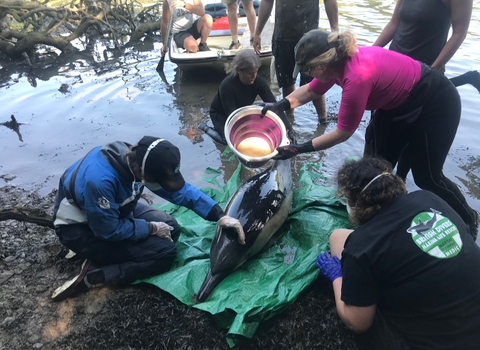 Living Seas LIVE
Sign up to our new series of monthly marine themed talks hosted by our Living Seas team. Each month we will be joined by fantastic special guests to chat about the North Sea, it's wildlife and the work that is being done to protect it. 
Find out more
The activities were engaging and fun, yet educational at the same time. It was great to see the awe and wonder in the children's faces as they discovered new creatures in the rockpools.