Zoom into Yorkshire's seabird city from your sofa!
Yorkshire Puffin Festival is taking place from Saturday 29th May to Monday 31st May 2021.
Yorkshire's Flamborough Headland is one of the best places in the country to see puffins from land – as well as thousands of other seabirds. Experience the sights and sounds of our 'seabird city' remotely through a fun-filled programme of online events for all the family. Join our experts to plan your seabird spotting adventure and discover how protecting puffins starts at home.
Let us transport you to Flamborough Cliffs for all the seabird action! Family-friendly challenges, 'meet the experts', special guests, top spotting tips and more.
We'll be releasing more information about the festival nearer to the time. If you can't wait to get started, sign up for your Puffin Protector Pack today and we'll keep you updated on everything puffin!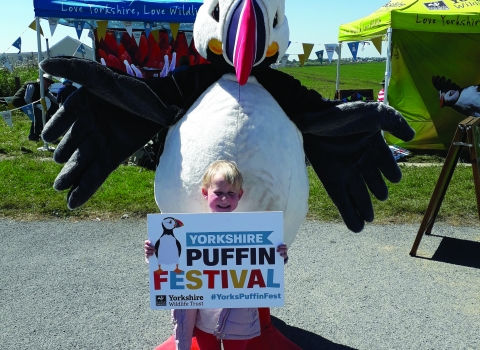 Get your Puffin Protector Pack!
You don't need to be near the sea to discover more about these clowns of the ocean - protecting our amazing Yorkshire puffins begins at home! 
Sign up to receive our Puffin Protector Pack. It's packed full of incredible puffin facts, activities to do at home, advice on where to spot them on the Yorkshire coast, puffin-themed gifts and competitions and ideas to help you protect puffins!
Sign up now
Sign up now
Sign up below to receive your Puffin Protector Pack. We'll start emailing out our packs in early April - check your inbox for an email full of puffin fun!
Proudly supported and funded by local BID businesses.