The net result of the day is one of happy smiling faces, a few aching limbs, but also one of time well spent with Yorkshire Wildlife Trust.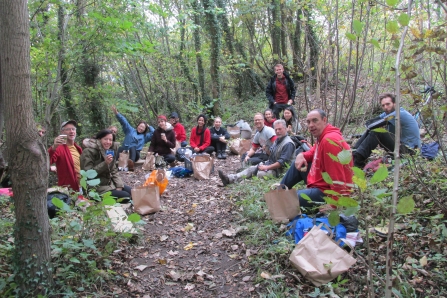 The University of Leeds became a corporate member of Yorkshire Wildlife Trust in 2012, due to its shared values of seeking to improve the environment; working positively with local partners; and providing opportunities for students and staff to come together, to undertake physical outdoor work, thereby improving well-being and team building. The University volunteers, or 'Vol-ont'-Aires', primarily work on nature reserves around Leeds, and along the Aire Valley, alongside Yorkshire Wildlife Trust staff, but also alongside other charity volunteer groups, such as Forest of Bradford, Conservation Trust Volunteers, and Leeds Coppice Workers.
Varied Activities
The first work day in 2012 was spent assisting the management of the local hay meadows at Kirkstall Valley Nature Reserve, with the raking and removal of cut hay. So far, the Vol-ont'-Aires have completed twenty-two individual events, amassing some 245 volunteer days of work. Activities have included hay meadow and woodland management; willow coppicing and spiling (riverbank protection); hedge and tree planting; constructing otter holts; and building wooden steps to help improve access.
Benefits
The benefits that both staff and students experience include the opportunity to work in greenspaces away from Leeds; and on physical activities that would not be normal in their work or academic environment. Each member of staff is there because they want to do something that's different and positive for the environment, but they also get a buzz from working alongside each other, and achieving something tangible at the end of each day. Some people come back time and again, whilst others may only undertake a single day. However, the nett result is one of happy smiling faces, a few aching limbs, but also one of a day well spent with Yorkshire Wildlife Trust.
Contact Us
If you are inspired to involve your employees with volunteering, please email corporate@ywt.org.uk or telephone 01904 659570.