2020 has been a year that none of us will soon forget.
We've faced lockdowns, uncertainty, anxiety, isolation... but there have also been heartwarming stories and tales of hope. We've witnessed glimmers of a better future where our wildlife and wild places are valued and protected at the heart of our lives.

Some of our highlights this year have been unexpected, but all prove that joy can be found even in the hardest of times. We hope you enjoy remembering them!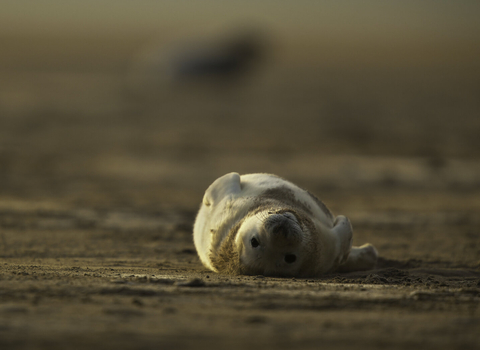 We adapted to a global pandemic
As with so many other organisations, the first lockdown created total upheaval practically overnight. Dealing with working from home and furloughed staff, we had to figure out how to continue our work for wildlife in these new and uncertain surroundings.
But we managed. From mastering new technologies to running virtual events, to ensuring our visitor centres and offices are safe and welcoming for all and wearing PPE on our nature reserves, we adapted, innovated and persevered.
In a year where not much feels positive, we take our hats off to everyone who has simply managed to keep going, despite it all. It may not feel like a big achievement, but for us, that's a reason to be proud.
Latest updates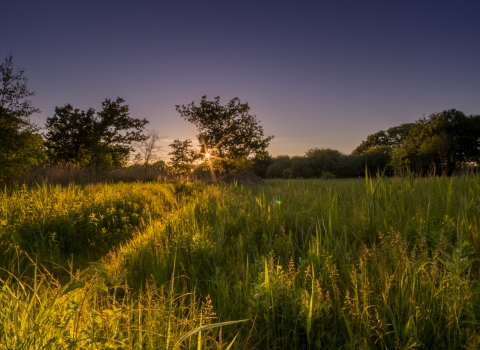 We saved Askham Bog
In May, we found out the appeal against the rejection of development next to Askham Bog was dismissed, meaning that Askham Bog is protected for the future. After years of campaigning, from engaging our supporters to behind-the-scenes advocacy, and council meetings to a public inquiry, this news was absolutely joyous to receive.
We can't thank our members and supporters enough for their continued and unwavering support of Askham Bog. You raised an incredible £39,000, allowing us to make the strongest possible case at the public inquiry, while over 7,000 people stood with us in objecting to the proposals.
Our collective voices and passion saved Askham Bog - a true victory for the natural world.
Read Askham's story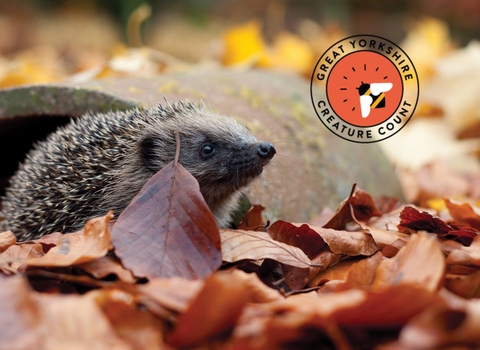 We brought people together to protect wildlife on our doorsteps
With most people at home, we wanted to find a way that we could all encounter and appreciate wildlife. We decided to ask people all over Yorkshire to count the creatures in their gardens, yards and out their windows over 24 hours in June. And so the Great Yorkshire Creature Count was born! 
Over 4,500 people signed up to take part, with an incredible 13,500 observations and an astonishing 1,400 species observed over the weekend! With tips, advice and inspiration shared all weekend, we hope we inspired all our participants to take action for wildlife in their own little patch and beyond!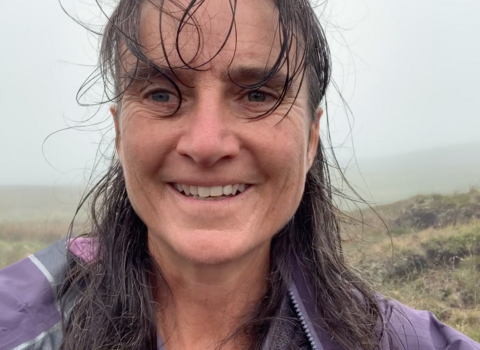 We saw magical moments on our Yorkshire peatlands
Yorkshire Peat Partnership had a bumper year for protecting and restoring our incredible peatlands!
We surveyed an amazing 3,755 hectares of peatlands and completed restoration works on 3,113 hectares - that's over 4,000 football pitches! We also completed restoration plans for 7,711 hectares of peatlands across 20 sites..
Earlier in the year, our colleague Jenny was out filming some of our restoration work when she experienced a magical moment with a short-eared owl soaring around her - she's captured it on video. This is why we do what we do!
Watch the video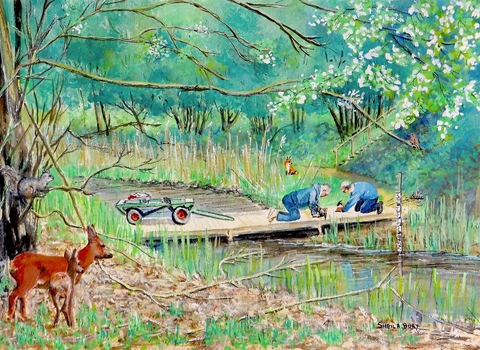 We celebrated our incredible volunteers
Our volunteers help us to achieve so much for wildlife and for people. From putting in the hard graft on cold, miserable winter days to speaking passionately about wildlife to people all across Yorkshire, we could not do what we do without them.
Despite our volunteering programme being severely disrupted this year, our volunteers have still managed to clock a huge 19,233 hours for wildlife!
We celebrated our volunteers with a virtual Volunteers' Week this year, with competitions, videos, quizzes and more! This beautiful painting was submitted by volunteer Sheila Bury - isn't it wonderful?
Watch the video
We kept (almost) all of our nature reserves open
So many of us have found solace in and reconnected with our natural world this year, but we're all too aware that access to nature is not equal to all, with people living in urban areas the worst affected.
During the second lockdown, we wanted to make the wildlife and relaxing surroundings of Potteric Carr's wild, outside spaces accessible to all Doncaster residents. We gifted complimentary access to the reserve during November and were thrilled that so many local people safely took up the offer.
Whether you've been visiting your local nature reserve for years or you've discovered new wild places on your doorstep, we're so pleased we've been able to keep nature open to all!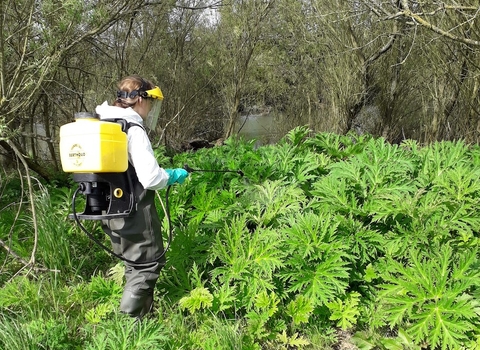 We tackled invasive non-native species
Invasive non-native species (INNS) pose a real threat. They overwhelm the habitats where they grow and outcompete our native species, causing lasting damage to the environment, our health and the economy. As part of the Yorkshire Invasive Species Forum, we're tackling INNS all across Yorkshire. This year alone, we managed to treat 54.8km of riverbank for Japanese knotweed, complete surveys along 49km of rivers and worked with an amazing 64 landowners!
We've also successfully secured funding from Yorkshire Waters' Biodiversity Enhancement Programme to help us protect our native white-clawed crayfish, who are at threat from crayfish plague spread by the American signal crayfish!
Yorkshire Invasive Species Forum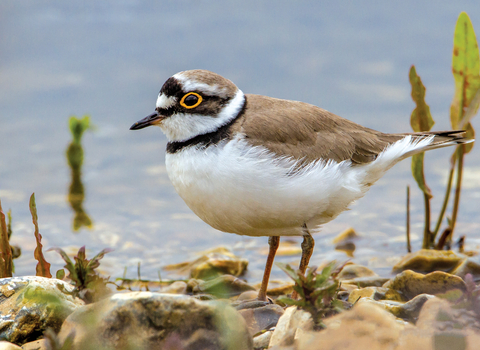 We experienced the joy of new fledglings
Little ringed plover bred at Bolton-on-Swale Lake nature reserve for the first time in 30 years! Two chicks fledged - a truly joyous moment! 
At the reserve, we've also created a sand martin bank and an osprey post, but it'll be a number of years before any ospreys move in. Currently they breed in Scotland and the Lake District (with a few pairs in Rutland), but as the species moves north we are likely to see more ospreys looking for nesting sites. Bolton on Swale Lake is part of a commonly used migration route for these birds. Let's hope it's one of our highlights in a few years time!
More about the nature reserve
It's all thanks to you.
Your support has meant that despite the adversity we have faced this year, we have been able to continue protecting, restoring and enhancing Yorkshire's wildlife and wild places, and for that we are truly grateful. You are helping to protect our wildlife and landscapes and inspiring people across Yorkshire to take action for nature. Whether you've given your money, your time or your words of support - we're so grateful. Thank you.

We're hoping that 2021 brings calm and a chance to move forward after the turmoil of this year. But whatever happens, we know that we are resilient, committed and passionate about wildlife.
Merry Christmas and a Happy New Year!