Write to your MP
A recommendation has now been made to the Secretary of State for Housing, Communities and Local Government, who will decide Askham Bog's fate.
Can you help us one more time? Please email your MP and urge them to request that the Secretary of State refuses the development.
We've put together a draft letter or email for you to send to your MP, explaining why it is so important that Askham Bog is protected. There's space to include your own personal comments, but you don't have to. You can download them below.
If you're not sure who your local MP is, you can find out at theyworkforyou.com.
Download our draft email/letter
Thank you for your support
Your support to help #SaveAskhamBog from development has been invaluable. Over 7,000 of you signed our petition, playing a huge role in the City of York Council's unanimous decision to vote against the development. After the developers appealed, together we raised a staggering £39,000 -  enabling us to put forward the strongest possible case for Askham Bog's protection at the Public Inquiry.
We must take every action to combat the climate emergency. Places like Askham Bog are pockets of incredible diversity - a lifeline for wildlife and essential for our future. A decision in favour of Askham Bog is a step towards that brighter future.
We cannot thank you enough.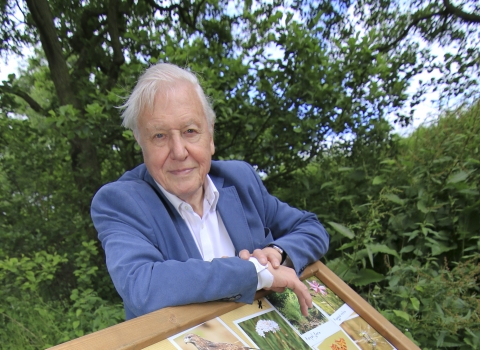 An irreplaceable gem
Sir David Attenborough called it a "cathedral of nature conservation" when he visited in 2016. A remnant of Yorkshire's ancient fenlands, it's extraordinary how many plants and animals thrive here. Despite its small size, Askham Bog is the richest place in Yorkshire for wildlife. Only minutes from the centre of York, it's a haven for wildlife and people alike.
The story so far
In 2018, a planning application was made to City of York Council for a development of more than 500 homes on Moor Lane, an area that sits next to Askham Bog. This development could have devastating consquences for Askham Bog, an ecologically important and hugely loved nature reserve.
7,000 people signed our petition in January 2019, urging the council to refuse the planning application. It was clear that Askham Bog is a truly special place both for people and for wildlife.
In July 2019, we were thrilled that the City of York Council unanimously refused the planning application for development next to Askham Bog.
Devastatingly, the developers appealed this decision. A Public Inquiry took place over three weeks in November 2019, where Yorkshire Wildlife Trust represented Askham Bog alongside City of York Council.
If someone was proposing to put a building site next to York Minster, there would be an outcry. And that's what this proposal is.
Public Inquiry
The Public Inquiry took place at The Citadel, Gillygate, York YO31 7EA from Tuesday 12th until Thursday 28th November 2019.
We are hugely grateful to City of York Council for all of their time and effort representing Askham Bog.
Thanks to public support and generosity Yorkshire Wildlife Trust could put forward the strongest case for Askham Bog and its wildlife at this Inquiry. Launching in October, our fundraising appeal to #SaveAskhamBog raised £39,000, allowing us to cover all remaining associated legal costs of the Inquiry.
We were able to present stronger scientific evidence thanks to Alex Jones (a chartered geologist and part of JBA Consulting's hydrogeology team), expert witnesses Professor Sir John Lawton and Professor Alastair Fitter, and first-rate planning advice.
We also secured excellent legal representation from Emma-Louise Fenelon and Darragh Coffey of 1 Crown Office Row Chambers, who provided their time and expertise pro bono. We are truly grateful for their support.
The Planning Inspector made a recommendation to the Secretary of State for Housing, Communities and Local Government in February 2020. A final decision is expected in the next few months.
Resources
Please find below some of the relevant documents for the Public Inquiry.