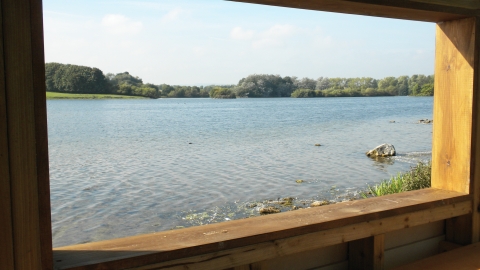 Bolton-on-Swale Lake Nature Reserve
Created as a result of sand and gravel quarrying, this is one of the few large areas of open water in this part of North Yorkshire and attracts a wide range and number of breeding and wintering wildfowl.
Know before you go
Entry fee
No
Parking information
Car park at the entrance to the site
Grazing animals
Grazed by sheep and cattle
Walking trails
A footpath leads you to the hides.
Access
The entrance to the nature reserve is on the other side of the lane to the car park. Accessible for wheelchair users, but some assistance may be required.
People using wheelchairs, powerchairs and mobility equipment can find more information about the reserve here, thanks to Accessible Nature
When to visit
Opening times
Open at all times
Best time to visit
March to May, September to February
About

Bolton-on-Swale has been landscaped and allowed to flood to provide suitable habitat for many wetland bird species. Tree planting and scrub along the lake margin has further diversified the site for birds. During the winter months the number of ducks and wading birds increase and nationally important numbers of wigeon use the site. The wigeon are joined by goldeneye, pochard, tufted duck, lapwing, golden plover, teal and shoveler. The wetland can attract some interesting passage migrants such as green sandpiper, artic and black terns, greenshank and ruff in late summer/autumn.

The grass is grazed short by sheep belonging to a local farmer, assisted by a large mixed flock of greylag and Canada geese.

The large islands in the lake have mainly been overtaken by bushes and trees. Clearing will provide nesting opportunities for wading birds such as oystercatcher which already here, and encourage other species. Great crested grebes, coots and moorhrens all breed around the lake.

The site is managed by a tenant farmer but access is provided via a path leading to two hides providing views over the main lake.
Seasonal highlights

Spring: Birds - Oystercatcher; Common sandpiper; Sand martin; Yellow wagtail; Sedge warbler
Summer: Invertebrates - Common darter; Birds - Lapwing; Green sandpiper; Greenshank; Ruff
Autumn: Birds - Green crested grebe 
Winter: Birds - Wigeon; Shoveler; Pochard; Tufted duck; Curlew
Directions

From the A1 travelling north enter Catterick and continue north on the A6136 keeping the racecourse on your left. Cross Catterick Bridge and after approximately ½ mile turn right at the cross roads onto the B6271 towards Bolton-on-Swale. Continue for 1½ miles to a road on the right, this is Back Lane which leads to the nature reserve car park. From Northallerton follow the B6271. Pass the signpost to North and South Ellerton on the left, continue for ½ mile to a signpost (Ellerton to Scorton). Fork left down Back Lane to reach the nature reserve car park.
Nearby