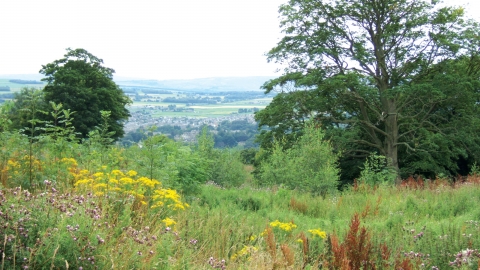 Upper Park Wood Nature Reserve
Visit Upper Park Wood for fantastic panoramic views of the 'Last of the Summer Wine' countryside of the Holme Valley - a colourful mosaic of meadows, woodland and moorland, as well as a chance to consider man's impact on the environment. A variety of habitats in the nature reserve support a great diversity of species.
Know before you go
Entry fee
Free
Parking information
Limited roadside parking available. A small layby on Northgate road can hold a small number of vehicles.
Grazing animals
The site is occasionally grazed by cattle.
Walking trails
An excellent network of paths offers opportunities to explore the wider landscape, including Stirley Community Farm which is less than a mile away. A geology trail starting at Castle Hill passes through the nature reserve.
Access
Inaccessible to wheelchair users and pushchairs.
When to visit
Opening times
Open at all times
Best time to visit
March to May
About

Oak wood woodland with an understorey of holly and a ground flora rich in bluebells, Upper Park Wood was probably once part of a game park for deer and wild boar, as part of the ancient Manor of Almondbury.

A good network of paths allows you to experience excellent views from the nature reserve, as well as encounter a wide variety of habitats; woodland edge, field and path margins, pond, wet areas, acid grassland, hedges and dry stone walls. The acid nature of the soil is reflected by the plant species growing on the nature reserve, including foxglove, heath bedstraw and sheep's sorrel which thrive on the site, along with bilberry and heather. The pond was created by damming a stream, and in one of the fields a shallow scrape has also been created.
Seasonal highlights

Spring: Plants - Blackthorn; Wild cherry; Bluebell
Summer: Plants - Foxglove; Birds - Buzzard
Autumn: Plants - Bilberry
Winter: Plants - Holly; Mammals - Roe deer
History

The south facing hillside lies on the lower coal measures, made up of layers of shale and sandstone, with coal seams above some of the sandstone beds. Until the early 1900s the richer seams were worked along the valley. Evidence of two coal pits can be seen adjacent to the steps up the side of the wood, marked by the profuse growth of Western gorse.

Designated as a Local Nature Reserve in 1987, the site took its name from a tiny remnant of ancient deciduous woodland. Owned by Kirklees Metropolitan Council and managed jointly with Yorkshire Wildlife Trust, the site has grown with the acquisition of adjacent fields which have since been planted with a variety of native trees and shrub species. Much of the woodland management is carried out by a group of enthusiastic volunteers with the aim of maintaining and increasing biodiversity where possible.
Directions

Public transport
A bus service passes the nature reserve, or take a bus from Huddersfield to Holmfirth and alight at Honley Bridge then take Northgate. Nearest train station at Honley, an hourly service runs between Huddersfield and Sheffield.

By car
Approach via Northgate, a left turn off the A616 from Huddersfield, immediately after the A6024 turn-off towards Holmfirth. After a steep climb, of about 0.75 miles you reach a high wall which can be parked against.
Nearby