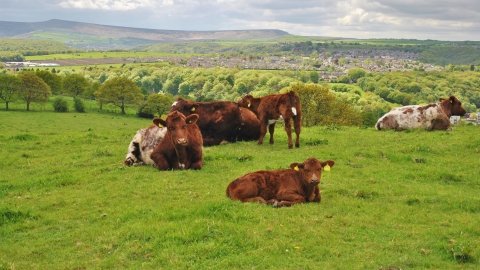 At Stirley, we are restoring the grassland and, in doing so, increasing the diversity of flowers, insects, birds and mammals. Our herd of traditional cattle, our volunteers and our staff all work together to achieve this. We also run a programme of year-round activities, including family learning, wild workshops and tailored school visits.
Know before you go
Entry fee
Free (some events may be chargeable)
Parking information
Free. Limited parking available.
Grazing animals
Herd of traditional cattle.
Walking trails
Network of accessible footpaths throughout the farm. Circular route to Castle Hill (with some road crossings) via public rights of way. Trail to Upper Park Wood which has magnificent bluebells in the spring.
Access
The farm centre is suitable for wheelchair access. Public rights of way around the farm can often be steep with uneven or muddy ground.
Dogs
On a lead
Please pick up after your dog as dog faeces can spread neospora to the cattle which can be fatal.
When to visit
Opening times
Public rights of way around the farm are always open and we encourage you to explore, or check out the events pages for what's happening this month.
Best time to visit
May to September
About

Yorkshire Wildlife Trust chose Stirley Community Farm as their gateway site for West Yorkshire as it is typical of the local countryside and is a great place to showcase how wildlife-friendly farming methods can benefit the landscape and involve the community with volunteering opportunities. 
 
At Stirley, we are working hard to restore the grassland, which will increase the number and diversity of flowers, insects, birds and mammals. To achieve this the meadows are grazed with our herd of traditional cattle - they eat longer, coarser grasses than commercial cattle breeds and push their way through scrub and bracken to create open spaces, so that a wider range of species can thrive. A hay cut is taken in the summer to encourage a diversity of plants to grow which in turn attracts more wildlife into the fields.

Our beehives are helping to adress the decline in pollinators and our honey bees are great for pollinating our vegetable crops. We are also planting hedges, creating ponds and putting up nesting boxes to ensure that wildlife have a home on the farm. Of course we couldn't do all this without the valued help of our team of volunteers. We run volunteer sessions throughout the year so get in touch if you would like to lend a hand.

In spring birds are starting to nest in the boxes around the farm. Watch out for our sparrows flitting in and out. Flowers and grasses emerge after the winter and our calves are born and can be seen in the barn on our open days and events. Our bee hives are starting to buzz with activity.

Come the summer months the training garden is blooming and the wildflower meadows and bee beds at the farm centre are at their best. Spot yellow rattle and other flower species in our fields. Our traditional beef herd are out of the barn and in the meadows, helping to improve the wildlife through grazing. Hay cutting begins, birds are singing and the sun is out. It's a wonderful time to explore the farm. You can enjoy views for miles around and birdsong surrounds.

Schools and community groups can book tailored sessions with our education team. Please click here for more information.

Our programme of year-round activities including family learning, wild workshops and festivals can be found on the events pages (the keyword 'Stirley' to narrow your search).

Click here for more information on what to enjoy and how to be part of the Stirley Farm community.
History

Out of business for ten years, Yorkshire Wildlife Trust was able to take Stirley Community Farm under its wing thanks to the help of Kirklees Council.

Stirley Community Farm was once an upland dairy farm that was then abandoned for almost ten years, when ends would not meet. During this time of neglect the farm buildings becamse derelict and in a state of disrepair. People regularly used the public rights of way through the site, but a lot of potential for use as a green space was going to waste.

As the owners of the farm buildings and land, Kirklees Council approached the Yorkshire Wildlife Trust about the site and nature conservation, whilst input from local activists suggested there might also be some benefit to the community to be gained from renovating the site.

Consultations with the local community, led by Newsome Ward Community Forum and supported by Yorkshire Wildlife Trust, ensued with dramatic results. 55% of people who didn't already grow their own food said they would if given help and support, whilst 98% of people surveyed supported the idea of Stirley Community Farm becoming a community resource to demonstrate, inspire and educate people about local food production and growing.

The concept was put to the Cabinet of Kirklees Council in November 2008 who supported a transfer of land to the Yorkshire Wildlife Trust.

Supported by Kirklees Council.
Seasonal highlights

Spring: Birds - Little owl; Invertebrates - Orange tip; Peacock; Speckled wood
Summer: Invertebrates - Meadow brown; Birds - Swallow; Pied wagtail; Goldfinch
Autumn: Birds - Starling
Winter: Birds - Kestrel
Directions

Public transport
Nearest train stations are Berry Brow and Honley. From these the farm is 20 minute walk.

Bus 354 from Huddersfield to South Crosland stops at the junction of Hall Bower and Ladyhouse Lane.

Bus 341 from Huddersfield to Stocksmoor stops on Ashes Lane at the top of Cold Hill Lane.

By car
From Huddersfield: Take the A616 then turn left onto Bridge St, next turn left onto Lockwood Scar. Take a slight left onto Church Lane, continue onto Jackroyd Lane. Follow this up the hill, where it becomes High Lane and then take first right onto Hall Bower Lane (if you reach a T-junction at the top of the hill, you've gone too far). Follow the road through the housing and as the road drops down turn left onto a track just before the bend onto Lady House Lane. The car park will be just ahead on the right.

From the M1: Take junction 38 to Huddersfield. Take the second exit at the roundabout onto the A637. Cross two roundabouts then at the third take first exit onto the A642. Turn right onto Station Road, then right onto the A629. Turn left onto Fenay Lane and continue to Ashes Lane. Turn right onto High Lane down a steep hill. Take the first left onto Hall Bower Lane. Follow the road through the housing and as the road drops down turn left onto a track just before the bend onto Lady House Lane. The car park will be just ahead on the right.

The postcode supplied should get you to the bottom of our farm track, just outside of Hall Bower village. Please follow the farm track all the way to the top where you will see parking facilities and the farm buildings.

Please note: During larger events there is limited parking available on the farm, which is prioritised for people with mobility issues. During these events please park at Castle Hill, walk back to Ashes Lane and turn left, the footpath to the farm is opposite the bus stop on the right and near Castle House Farm Cottages.
Nearby