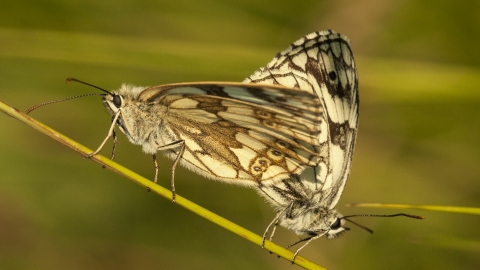 Townclose Hills Nature Reserve
This Site of Special Scientific Interest (SSSI) gives a stunning show of wildflowers, thanks to its magnesian limestone soil. The woodland is traditionally coppiced with managed scrub which is adding to its appeal for nesting birds.
Know before you go
Entry fee
Free
Parking information
Kippax Leisure Centre Car park
Access
There are several footpaths into the site, but the main one runs up from Kippax Leisure Centre car park on Station Road. A track runs from the bottom of Westfield Lane up to the northernmost tip of the site, and the Lines Way, which runs all the way from Garforth to Allerton Bywater, runs along the western edge. This reserve is also accessible by public transport. Limited wheelchair access due to steep slopes and muddy paths.
When to visit
Opening times
Open at all times.
Best time to visit
April - September
About

Townclose Hills, or Billy Woods as it is commonly known, is a prominent knoll of magnesian limestone surrounded by low-lying arable land.

Townclose Hills comprises a steep-sided grassland plateau with woodland, wildflower meadows, scrub and a disused railway cutting with exposed limestone and shallow, spring-fed pools. The grassland plateau became a SSSI in 1984 as the largest example of a magnesian limestone grassland over 1 hectare in the county. The grassland is important for its diverse assemblage of flora and comes alive in the summer with clustered bellflower, field scabious and orchids. From the grassland plateau a beautiful panoramic view of the surrounding countryside can be enjoyed.

The wood is the most dominant part of the site. Quarried areas of the site support scrub woodland communities of wych elm, sycamore, hawthorn, blackthorn ash with sanicle and the regionally rare ploughman's spikenard.  As you walk through the reserve, keep your eyes open for butterflies such as gatekeeper, speckled wood and comma and birds such as yellowhammer, fieldfare and lesser spotted woodpecker.

If you fancy a late night stroll, female glow worms can be seen attracting a mate during summer and you may even spot a badger.

Townclose Hills is part of the green corridor in the Lower Aire Valley in Leeds which is managed in partnership between Yorkshire Wildlife Trust and Leeds City Council.

Contact the Reserves Officer to get involved in with the Lower Aire Valley volunteer group.
Seasonal highlights

Spring: Birds - Cuckoo; Lesser spotted woodpecker; Plants - Cowslip
Summer: Invertebrates - Glow Worm; Gatekeeper
Autumn: Plants - Clustered bellflower
Winter: Birds- Bullfinch
Directions

Public transport
A regular bus runs between Castleford, Kippax and Leeds.

By car
From Castleford take the A656 north, then turn left onto the B6137 into Kippax. Head through the centre of Kippax and take the first exit off the roundabout onto Cross Hills, followed by a slight right onto Station Road. Park at Kippax Leisure Centre on the right.
Nearby