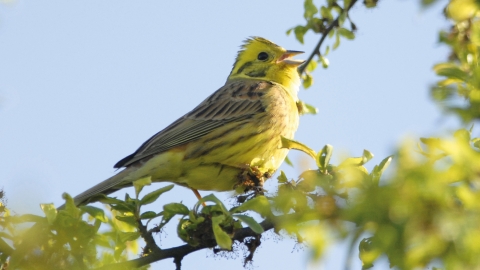 Kippax Meadows Nature Reserve
Tucked away next to the village of Kippax, this green oasis is a mix of meadow, wildflower garden and scrub. Its readily accessible small network of paths is ideal for enjoying some fresh air and exercise. Occasional kestrels, red kites and common buzzards are welcome guests, as are southern marsh and common spotted orchids.
Location
Know before you go
Entry fee
Free
Parking information
Car park available on Brigshaw Lane SE 41299 29872 (nearest postcode LS25 7LD).
Walking trails
Network of footpaths across site and into Kippax.
From the carpark on Brigshaw Lane walk across the amenity grassland next to the tennis courts and into the woods. Turn right out of the woods and walk down the path. 130m down this path there is a path on the left into the nature reserve.
Access
There are a good network of paths around the site, some suitable for pushchairs and wheelchairs.  Benches are dotted around the site.
When to visit
Opening times
Open at all times
Best time to visit
April to September
Habitat
About

Kippax Meadow is a Site of Ecological and Geological Importance (SEGI) consisting of a mosaic of species rich grassland and dynamic scrub habitats. The underlying geology is predominantly Pennine Middle Coal Measures Formation (sandstone) but at the northern edge of the grassland there is an outcrop of magnesium limestone.

The botanically diverse grasslands are both calcareous and neutral and support a number of notable and regionally scarce plant species including smooth tare, dewbury, common spotted orchid, southern marsh orchid and bee orchid.

The grassland supports a good range of butterflies and bumblebee species such as the common blue, meadow brown, small tortoiseshell, small and large white, peacock and small skipper. Kestrels, red kites and common buzzards can be seen flying over this site and occasionally perched on the scrub. Small mammals such as hedgehogs have also been recorded on site.

Using the accessible path network found throughout the site, visitors in spring will experience birds such as bullfinch, yellowhammer and linnet proclaiming their territories and singing for a mate from the areas of scattered hawthorn scrub. Throughout summer months you can picnic or wander through the meadows which will be ablaze with colour and crackle with the sound of bumble bees, butterflies and other insects.

Kippax Meadows is part of the green corridor in the Lower Aire Valley in Leeds which is owned by Leeds City Council and managed in partnership with the Trust.
Seasonal highlights

Spring: Birds - Chiffchaff; Bullfinch; Yellowhammer
Summer: Plants - Common spotted orchid; Bee orchid; Southern marsh orchid; Invertebrates - Common blue; Small skipper
Autumn: Birds - Fieldfare; Redwing
Winter: Birds - Linnet
Directions

Public transport
Buses run between Leeds and Castleford, stopping at Kippax.

By car
From the north leave the M1 South at junction 46 onto the A63 (Selby Road). Take a right turn onto the A656, then a right to Kippax on the B6137. Take the first exit on the roundabout down Butt Hill, then bear left onto Brigshaw Lane. Parking is either on the roadside or in the bowling club car park. Reserve access off Cromwell Rise. 

 
Nearby