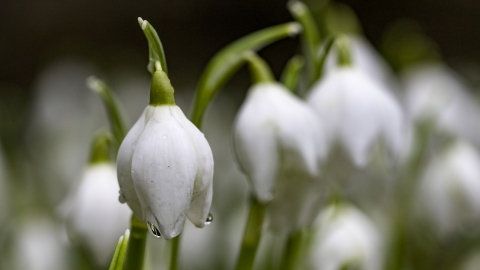 Owl Wood and Pit Plantation
Owl Wood and Pit Plantation is home to a number of roosting bat species. The two connected woods are dominated by oak, sycamore and silver birch and beautiful bluebells and snowdrops spring forth early in the season.
Location
Know before you go
Entry fee
Free
Parking information
There is a small layby which can fit a couple of cars in. But please note access is needed along the road so do not block.
Walking trails
Interconnected woodland paths throughout both woodlands.
Access
Very limited accessibility for wheelchair users and paths can become very muddy.
When to visit
Opening times
Open at all times.
Best time to visit
March to September
Habitat
About

Owl Wood and Pit Plantation are adjacent blocks of woodland which are, for the large part, surrounded by arable farmland.

They offer a sheltered retreat and former woodland management (coppicing) has meant there is plenty here for local wildlife.

Throughout both woodlands you will see bat boxes high in the trees which are active and surveyed every year by Leeds City Council. A visit in spring and summer at dawn and dusk will reward with you the sight of bats flying through and around the woodland. Species such as the common and soprano pipistrelle, noctule, myotis and evidence of a brown long-eared bat have been recorded here.

Early in the season woodland ground flora springs up bluebells and snowdrops providing some beautiful colours.

Come autumn and winter overwintering songbirds can be heard and seen throughout.
Seasonal highlights

Spring: Plants - Bluebell; Birds - Songthrush
Summer: Mammals - Bats; Hedgehog
Autumn: Plants - Beech
Winter: Birds - Tawny Owl
History

Owl Wood and Pit Plantation is owned managed in partnership with Leeds City Council. Whilst Owl Wood is now dominated by relatively recent naturally regenerated sycamore, oak and silver birch, it is known to have been wooded at least since the end of the eighteenth century.

Pit Plantation, as it's name suggests, is of planted origin - it is first documented in the 1913 map of the Township of Allerton Bywater.

18th century bell pits are present within Owl Wood, as are the field boundaries which originally contained a smaller element of woodland which as gradually extended.

 
Directions

Public transport
Regular buses run between Castleford and Allerton Bywater.

By car
On the M1 south take junction 47 for the A656/A642 exit to Castleford. At the roundabout take the first exit onto the A656. On the approach to Allerton Bywater take the right turn onto Park Lane, then at the roundabout take the second onto Leeds road. Take a right onto Doctors Lane and you will approach Owl Wood on your right.
Nearby