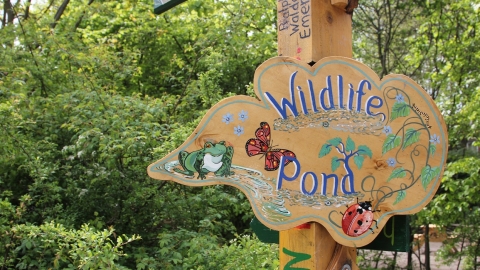 Pearson Park Wildlife Garden
In Hull's city centre, there's a special green space – small in size but packing a punch with over 240 different species recorded, and the local community actively involved in its care.
Know before you go
Entry fee
Free
Parking information
Ample parking available for both cars and coaches in Pearson Park which is adjacent to Pearson Park Wildlife Garden and accessed by Beverley Road.
Access
Good accessibility for wheelchair users.
When to visit
Opening times
10am - 4pm weekdays
Please note: when staff are required elsewhere, Pearson Park Wildlife Garden may be closed during these times
To check before you visit, please phone our York office (weekdays only) on 01904 659570
We are closed all bank holidays and for the Christmas period
Best time to visit
March to June
About

Divided into different areas, the wildlife garden gives visitors a taste of the different habitats that can be created in a small space and is crammed with ideas and inspiration to help people make a difference for wildlife in their own patch.

The wildlife garden is perfectly formed with different areas of interest - ponds, hedgerows, woodland and a meadow, as well as fruit and a vegetable patch.

There is plenty of wildlife making the most of these varied habitats including garden birds like blue tits, long-tailed tits and robins, as well as insects such as butterflies, shield bugs, ladybirds and solitary bees.

Wander through the meadow, sample the herbs and sit back and enjoy the wildlife from the seating areas dotted about the garden.

You can also enjoy two demonstration gardens, showing that even with a very small space you can still make room for wildlife.

Volunteers have also created a fernery which lead you seamlessly into the mini woodland.

 
Seasonal highlights

Spring: Plants - Bluebell; Snowdrop; Amphibians - Smooth newt; Birds - Blue tit; Chaffinch; Goldfinch
Summer: Plants - Meadow cranesbill; Purple loosestrife; Inverterbrates - Peacock butterfly; Green shield bug; Migrant hawker
Autumn: Mammals - Pipstrelle bat; Invertebrates - Garden spider; Plants - Hazel
Winter: Birds - Long-tailed tit; Robin; Mammals - Fox
Directions

Public transport
Frequent buses run to Princes Avenue, with the nearest bus stop a one minutre walk away. The nearest train station is Hull.

By car
Pearson Park Wildlife Garden is located just off Princes Avenue in Hull, opposite Westbourne Avenue. On street car parking is available in the area with a short walk to the garden.
Nearby