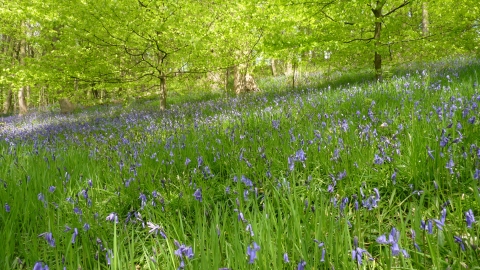 Low Wood is an attractive, secluded woodland which is notable for its beautiful spring displays of bluebell and foxglove, coupled with occasional sightings of badger and roe deer.
Location
When to visit
Opening times
Open at all times
Best time to visit
May to September
About

Beside the canal, Low Wood provides a pleasant oasis away from the noise of the Keighley urban area. Beautifully carpeted with bluebells in spring, this broadleaved woodland is also home to a wide range of fungi (over 36 species), together with the usual range of birds and plants.

Some of the birds that you might be lucky to encounter on a visit to the woodland include blackcap, great spotted woodpecker, tawny owl, treecreeper and nuthatch. Three species of bat also make this nature reserve their home.
 
Public access is limited. The woodland is steeply sloping with evidence of glacial melt water erosion of the millstone grit series forming cliffs towards the top. There is a footpath encircling the wood but the upper parts are steep and require care and energy to climb. The views from the top are excellent.

The woodland is managed through the hard work of volunteers and over recent years self-seeded sycamore have been removed from the wood to favour the indigenous species such as oak, birch and rowan in the canopy, with holly, hawthorn and hazel in the understory. Glades have been created within the woodland and these help to encourage butterflies such as speckled wood; management of the dense carpet of bracken has allowed successful re-establishment of ground flora. The small pond within the site is used by amphibians, including common frogs which congregate in numbers in early spring.
Seasonal highlights

Spring: Plants - Bluebell; Birds- Nuthatch; Treecreeper
Summer: Plants - Foxglove; Invertebrates - Speckled wood; Mammals - Badger; Pipistrelle bat
Autumn: Fungi - Woodland fungi Birds - Tawny owl
Winter: Mammals - Roe deer
Directions

Public transport
The bus service from Bradford to Keighley stops at Grange Road, Riddlesden. The nearest train station is located in Keighley. Cycle and footpath access is gained by following the towpath of the Leeds – Liverpool canal going northwards to Booth's Bridge.

By car
The nature reserve is located alongside the Leeds-Liverpool canal just below the Riddlesden Golf Course. This is reached by continuing along the unmade track from the end of Scott Lane West as far as the golf course club house (about 0.75 miles) then turning down by the canal where there is a small area for parking. Access is gained by a small gate, which is signed Private Scout Activity Centre. Keeping to the path, pass through the Scout wood to the nature reserve beyond.
Nearby