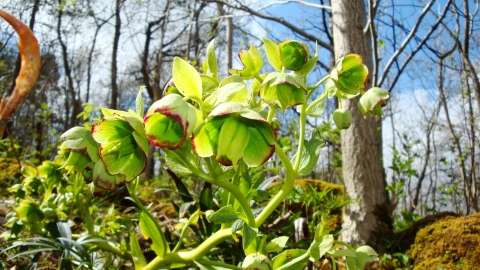 Grass Wood Nature Reserve
Grass Wood is one of the largest areas of broadleaved woodland in the Dales. It is a wildlife-rich woodland occupying an area of carboniferous limestone on the north side of Wharfedale.
Know before you go
Entry fee
Free
Parking information
Car Park accessed from Grass Wood Lane
Walking trails
Network of public footpaths and permissive paths through the wood.
Access
There are five points of pedestrian access from Grass Wood Lane, into the wood. One from Bastow Wood to the north and one from the east. No wheelchair access.
When to visit
Opening times
Open at all times
Best time to visit
March to May, September to October
About

Grass Wood is of high value due to the diversity of plant and animal species it supports. It is predominantly an ash woodland that is growing on a series of limestone terraces, with much exposed rock, creating open areas within the wood.

Plant species of particular interest, albeit that they are rare within the wood, include bird's nest orchid, horseshoe vetch, wild basil, spring sandwort and green spleenwort. More commonly seen species include lilly-of-the-valley, lady's mantle, melancholy thistle and rock rose.

The woodland supports a good range of common bird species including chaffinch, tawny owl and green woodpecker. Migrants include the pied flycatcher, spotted flycatcher and redstart.
Seasonal highlights

Spring: Plants - Bluebell; Primrose; Lily-of-the-valley; Birds - Pied flycatcher; Spotted flycatcher
Summer: Plants - Dropwort; Bloody Cranesbill; Invertebrate; Northern Brown Argus
Autumn: Fungi - Common puffball; Milkcap; Brittlegills; Clouded funnel cap; Mammals - Roe deer
Winter: Birds - Tawny Owl; Nuthatch; Treecreeper
History

The Trust originally became involved with the site in the 1960s and finally took ownership from the Forestry Commision in 1983.

The Trust have since worked with a very active group of volunteers to manage the reserve, removing non-native trees and initially replanting these areas, but now they are left to regenerate naturally.
Directions

Public transport
The nearest bus service goes to Grassington, approximately a 1 mile walk, with the nearest rail station at Skipton.

By car
From the B6265 in Grassington take Wood Lane on your right and travel north. Follow this for one mile, the nature reserve lies alongside the Grassington and Conistone minor road.
Ash dieback disease

Ash dieback disease is having a significant impact on the Ash trees in Grass Wood.

Please be aware that tree felling will take place this winter to ensure safe visitor access on the reserve. We understand that this may be alarming - we explain why below.

Please observe and respect notices on site for your own safety.

Ash dieback is a disease of Ash trees caused by the fungus Hymenoscyphus fraxineus, first detected in Britain in 2012. There are confirmed infections in most regions of the UK, including Yorkshire.

Symptoms include leaf loss, crown dieback and bark lesions, which directly and indirectly lead to the death of the tree. Current research warns that less than 1% of our native Ash trees will be effectively resistant to the disease, therefore the impact on our landscape will be profound.

Unfortunately, we cannot stop the spread of the disease. There are many factors which may contribute to how quickly and how drastically it will affect woodlands and individual trees. This makes it difficult to plan a response except in general terms – we cannot be more specific until the disease begins to have a visible impact on our nature reserves.

Over the coming few winters we will be starting to fell dead or dying Ash trees that are within reach of the public footpath, the main access track through the wood, and the road. This is because they potentially pose a risk to the public if they were to shed limbs or fall completely.

It is important to re-emphasise that in all other areas of the woodland our aim is non-intervention, leaving dead and fallen Ash trees as good habitat for other wildlife.

This will also give us a chance to assess the vast majority of trees for resistance to the disease although sadly, at present, this looks exceptionally rare.  Identifying resistant trees may also enable us to promote regeneration of Ash by protecting healthy seedlings and/or collecting seed and growing these on for future replanting schemes.
Nearby