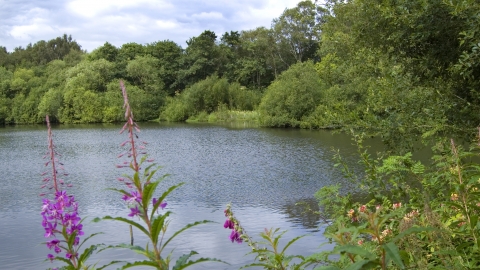 A little gem of a woodland and wetland nature reserve. Stroll among dramatic high canopy trees planted as a victorian garden, enjoy close up views of the bird feeding station, popular with woodpeckers and mandarin duck, then overlook the lake with an almost guaranteed sighting of the resident kingfishers.
Location
Know before you go
Entry fee
Free
Parking information
At Golden Acre Car Park.
Grazing animals
None on site.

Walking trails
Circular route. Please keep to the path to minimise wildlife disturbance on this small site, and to avoid the boggy areas.
Access
Permissive route as a circular walk. Easy going level path up until the first hide (Marsh Hide), suitable for wheelchairs and pushchairs. The remainder of the circuit is a more natural uneven surface, including steps and narrow points. Boggy areas frequent so keep to path.
People using wheelchairs, powerchairs and mobility equipment can find more information about this reserve here thanks to Accessible Nature.
When to visit
Opening times
Open at all times
Best time to visit
March to May, August to October
Habitat
About

The gently shelving edges and muddy margins of the central lake provide valuable feeding area for a variety of waterfowl throughout the year. Managed as a nature reserve since 1968, the site extends beyond the lake to include marsh and ponds within a wooded setting.

The reserve is unusual in that it combines both dry and wet woodland types - the latter being an increasingly rare habitat, vital for a great number of invertebrate species.

Introduced tree species such as the spectacular corsican pine are mixed together with more traditional native trees and shrubs.

Read more about the origins of Adel Dam below under 'history'.
Seasonal highlights

Spring: Plants - Bluebell; Marsh marigold; Birds - Blackcap; Chiffchaff
Summer: Plants - Foxgloves; Invertebrates - Dragonflies; Birds - Mandarin Duck; Mammals - Bats
Autumn: Fungi - Yellow sulphur tuft; Scarlet elf cups; Birds - Fieldfare; Siskin; Lesser redpoll
Winter: Birds - Little grebe; Goosander; Kingfisher
History

Adel Dam was once an operational dam to the water power industry. It then became a central feature of a Victorian Garden, which saw the planting of many exotic trees that can be seen today in their majestic maturity.

The original dam wall holding back a large lake eventually declined and is now reprofiled to create a much more natural, shallower lake, resilient to flood events.
Directions

Public transport
Take a bus from Leeds or Otley, alight at Golden Acre Park.

By car

Park in the Golden Acre car park (off A660) and take the underpass into the park. Turn right onto the Meanwood Valley trail and continue with the lake to your left. Turn left onto the bridleway (not over the bridge) and the Reserve entrance gate is on your right.

There are wheelchair friendly paths from the car park to the nature reserve and to Marsh Hide, a RADAR key is required by wheelchair users at the nature reserve entrance.
Nearby