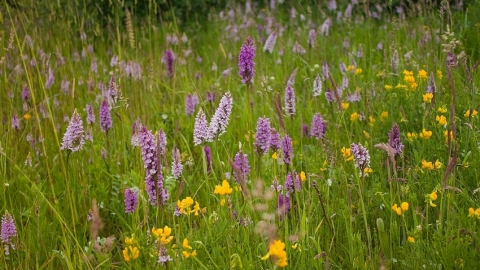 Ledston Luck Nature Reserve
A hidden paradise, this once industrial site might not look much on first glance, but on entry bursts forth with wildflowers and butterflies. Come summer, orchids are abundant and the pond teems with life.
Location
Know before you go
Entry fee
Free
Parking information
Parking is available at the Ledston Luck Enterprise Car Park during business hours.
Grazing animals
There is grazing on site at various intervals through out the year.
Walking trails
Marked walking trail around the site.
Access
Network of paths around the site, however not suitable for wheelchair users. Paths are often muddy.
When to visit
Opening times
Open at all times.
Best time to visit
March to September
About

You could easily drive right by this stunning site as it is hidden away behind the village of Ledston Luck. This green space is a bit of a gem and a must see to appreciate its stunning population of orchids and wide variety of birds.

During the summer, the grassland on the top plateau bursts into life with a variety of wildflowers. It is particularly noteworthy for the orchid population which includes some 4000+ common spotted-orchids, southern marsh orchids and hybrids between the two, and bee orchids. The site is grazed during the spring to remove grasses, decreasing competition for these beautiful orchids.

The pond on Ledston Luck holds a variety of pond life including emerald damselfly, emperor dragonfly, large red damselfly and four spotted chasers while the woodland and scrub are home to breeding birds such as grasshopper warbler and yellowhammer. If you are lucky you may spot a woodpecker.

By taking the informal footpaths through the site you can enjoy the different habitats which have transformed this post-industrial site into something quite special.
Seasonal highlights

Spring: Invertebrates - Brimstone; Large red damselfly; Broad-bodied chaser; Birds - Willow warbler; Sedge warbler
Summer: Plants - Common spotted orchid; Bee orchid; Invertebrates - Four spotted chaser; Birds - Grasshopper warbler
Autumn: Birds - Fieldfare; Redwing
Winter: Birds - Grey heron; Yellowhammer
History

Ledston Luck pit was sunk in the 1870s and became part of the linked 'superpit' around Selby. The pit closed in 1986 and now the site supports a range of wildlife habitats, some of which have developed naturally, though most, including the woodlands, ponds and some areas of meadow were created in the early 1990s as part of a landscape improvement scheme.

Ledston Luck is part of the green corridor in the Lower Aire Valley in Leeds which is owned by Leeds City Council and managed in partnership with the Trust.
Directions

Public transport
Buses run between Leeds and Castleford, stopping on Ridge Road.

Directions
From the north leave the M1 South at Junction 47. Take the first exit onto A656. Head straight over at the roundabout and continue on the A63. Turn left into the Enterprise Park car park. 
Nearby