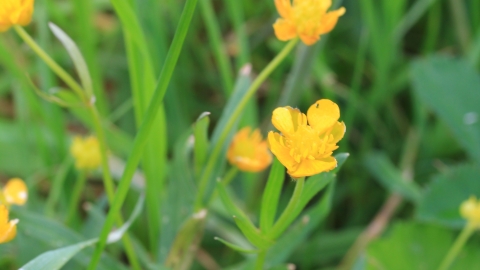 Hopyard Haymeadow Nature Reserve
Hopyard Hay Meadow is home to a glorious mix of wildflowers surrounded by ancient hedgerows.
Know before you go
Entry fee
Free
Parking information
Please park cars sensibly on the lane opposite reserve entrance.
Grazing animals
Yes
Walking trails
No footpaths. Please keep to field edges until hay is cut and to avoid trampling the flowers.
Access
The reserve is a long walk from the nearest point you can drive to, and along a wet and muddy farm track. Not suitable for wheelchairs or pushchairs.
When to visit
Opening times
Open at all times
Best time to visit
April to July
About

A small haymeadow situated near Hatfield, north of Doncaster, the surrounding hedgerows are mentioned in the Hatfield, Throne and Fishlake Enclosure Award of 1825 which shows that this site has been grassland for hundreds of years.

The floodplain meadow type vegetation that is found here is very uncommon in South Yorkshire. Since the River Don has been straightened and floods constrained by flood banks, the site hasn't flooded with river water for many years, but in winter the water table is usually so high that water stands on the fields for weeks after heavy rain.

There is a list of over 70 plant species, including sweet vernal-grass, pignut, great burnet, pepper saxifrage and four species of buttercup including goldilocks. The ratio of meadow foxtail to great burnet suggests a flood meadow of a rare grassland type.

The reserve is well worth a visit in June or July when the wildflowers and butterflies at their best.

Butterfly and moth species recorded include the chimney sweeper moth, a good indicator species for old grassland, good numbers of blues, coppers, whites, skippers, and recent records of purple hairstreak.

Birds recorded include green woodpecker, little owl and large numbers of wintering finches, some of which breed.

The Trust is in the process of trying to enhance the floristic diversity of the site through native seed translocation and by carrying out annual hay cuts in late summer.

The old wild service tree that was once here died some years ago (formerly the largest in South Yorkshire). A young tree will hopefully successfully replace it.
Seasonal highlights

Spring: Plants - Snake's-head fritillary
Summer: Plants - Pignut; Great burnet; Pepper-saxifrage; Meadow foxtail: Invertebrates - Purple hairstreak
Autumn: Birds - Green woodpecker
Winter: Birds - Little owl
Directions

Public transport
Train link available to Hatfield and Stainforth from Doncaster Railway station. Bus services available from Doncaster town centre.

By car
In Hatfield village (north east of Doncaster) turn north past the church and continue past the school and Victoria Avenue onto a dirt track (Cuckoo Lane) for about 0.5 miles. About 20 yards prior to the Pumping station turn left into Guile Carr Lane. The nature reserve is on the right where the lane bends.
Nearby