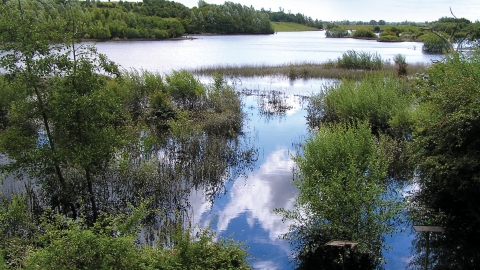 Thorpe Marsh Nature Reserve
Enjoy a peaceful walk around Thorpe Marsh Nature Reserve with pastures lined with hedgerows, ponds, lakes and small woodlands. With such varied habitats supporting a wide range of plants and animals you are guaranteed to see or hear something of interest.
Know before you go
Entry fee
Free
Parking information
Limited car parking on Marsh Lane.
Grazing animals
Cattle graze some areas of the reserve.
Walking trails
Public and permissive footpaths throughout the site.
Access
Not suitable for wheelchair users or pushchairs.
Dogs
On a lead
Please keep all dogs to the bridle path only.
When to visit
Opening times
Open at all times
Best time to visit
March to September
About

On the east bank of the River Don floodplain, Thorpe Marsh nature reserve is an area of lowland grassland with a large lake and small patches of woodland and scrub with oak, ash, hawthorn, blackthorn, willow, birch, and, in the wetter areas, alder. The woodland gives many feeding and nesting opportunities for great spotted woodpeckers, long-tailed and willow tits, treecreepers and tawny owls, among others.

The large fields are home to many flowers. Reedholme and Cockshaw Fields have centuries-old ridge and furrow corrugations with plants not now commonly seen in pastures - species such as adder's tongue fern, pepper saxifrage, devil's bit scabious, great burnet and common figwort.

The disused railway embankments, open in parts and wooded in others, give excellent views over the site and support many plants such as red and white campions, lady's bedstraw and broad-leaved helleborine and many insects and breeding birds.

Hedgerows of varying ages provide food, cover and highways for insects, birds, mammals and grass snakes.

Thorpe Mere is the largest of the water bodies. Grey heron, geese and ducks are regulars but waders like oystercatcher, green sandpiper and redshank are often seen here. In winter wigeon and goosander are regulars. At the Mere Scrape little grebe, moorhen, coot and mallard usually breed and water rail are shy visitors too. Applehurst Pond is also worth watching with good views of water birds.
Seasonal highlights

Spring: Plants - Cuckooflower; Common spotted orchid; Invertabrates - Orange-tip; Birds - Cuckoo; Blackcap
Summer: Invertabrates - Cinnabar moth; Birds - Kingfisher
Autumn: Invertrabrates - Comma; Migrant hawker; Common darter; Birds - Teal
Winter: Birds - Wigeon; Long-eared owl; Fieldfare; Lesser repoll; Bullfinch
History

The land here was owned by the power station that used to stand just to the east, and the land has been managed by Yorkshire Wildlife Trust since before the power station closed. There is an old railway embankment that bisects the site, and the East Coast Mainline runs along the western edge, a clear link to the history of Doncaster. The Ea Beck is to the south. The island of land between all these areas meant it was never intensively farmed, and ridge and furrow landforms can still be seen in the fields. The land was purchased by the Central Electricity Generating Board in the 1960s for tipping fly ash. This has meant that a great mix of plant species have flourished.
Directions

Public transport
The nearest bus service is the Doncaster to Barnby Dun service alighting adjacent to the to the Sheffield and South Yorkshire Navigation at Madam Lane walking back over the canal lift bridge along Forstead Lane. This is about a mile long walk to Marsh Lane plus the half hour walk mentioned in the article.

By car
The nature reserve entrance is at the Norwood Gate on Fordstead Lane, near the Norwood pumping station. Visitors may approach via Arksey or Barnby Dun. The public bridleway to the south of the ash-tip leads to the nature reserve and its permissive footpaths.
Nearby