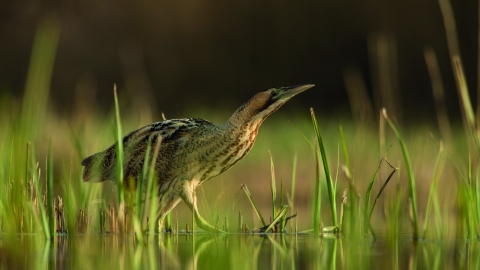 Potteric Carr Nature Reserve
Thank you for your patience during lockdown. We are sorry that you have been unable to visit Potteric Carr for such a long time. We're delighted to announce that Potteric Carr is open once more - please see the grey text box further down the page for details of what is and isn't open.
Following new Government guidelines published 22 September, track and trace is now mandatory when dining in our cafes. Our preferred option is through the NHS COVID-19 app; please download before your visit. We have a manual backup if you are unable to use the app. Track and trace is now a legal requirement, and we must therefore refuse service to anyone who will not/does not wish to participate.
If you've visited one of our reserves, we'd love to know what you thought. Please help us improve our visitor experience by completing our visitor survey.
Famed for its wetland birds including bitterns and marsh harriers, Potteric Carr has a network of paths enabling visitors to explore the mosaic of habitats and enjoy the stunning vistas. With excellent facilities including tearoom, shop, toilets and hides it really is a great place to visit.
Location
Know before you go
Entry fee
Access to the visitor centre and café is free. Entry onto the reserve incurs a fee. Day ticket prices: Yorkshire Wildlife Trust members free; adult £4.50; family £11 (two adults and four children under 16); concession £3.50; child £3.00.
Parking information
Car park by the visitor centre, and a small overflow car park on the opposite side of the Mallard Way.
Grazing animals
Cattle and Hebridean sheep
Walking trails
Permissive footpaths and waymarked trails. Please note that dogs and bikes are not permitted on the reserve (except for guide dogs).
Access
All footpaths, except a few unsurfaced trails, are wheelchair and pushchair friendly.
When to visit
Opening times
Potteric Carr is currently open from 09:30 until 17:00.

Best time to visit
Year Round
We are pleased to welcome you back to Potteric nature reserve and Visitor Centre
We have put a variety of measures in place to ensure you have a safe and enjoyable visit, including:
giving a warm welcome from a distance
providing hand sanitiser and hand washing facilities
accepting contactless payments only
displaying social distancing markers
asking you to wear a face covering when inside the Centre - the requirement to wear face coverings has been extended to include staff and customers in retail and indoor hospitality, except when seated at a table to eat or drink.
track and trace – our preferred option is through the NHS COVID-19 app ; we have a manual backup if you are unable to use the app. Track and trace is now a legal requirement, and we must therefore refuse service to anyone who will not/does not wish to participate.
The following will be open:
car park
takeaway cafe and indoor and outdoor seating, limited to groups of no more than 6 (7 days a week, 9:30am - 4pm). We will be offering a smaller yet still tasty menu!
toilets (7 days a week, 9:30am - 5pm)
pathways on the nature reserve (please keep to the left on all paths) and 11 of our 13 hides (7 days a week, 9:30am - 5pm)
Currently closed/unavailable:
2 bird hides (Loversall Pool and Beeston)
a short section of the paths are closed, including those leading to the Mud Kitchen and Black Carr Wood
There is an entrance fee to access the nature reserve - please see prices above (free to Wildlife Trust members). We look forward to seeing you soon!
About

Potteric Carr is an area of low-lying land to the south east of Doncaster which forms the floodplain of the River Torne. The site is fabulous for birdwatching with marsh and water birds being particularly numerous. Over 230 species of birds have been recorded and 102 species have bred, with over 65 species breeding each year. A major extension to the site was designed to enhance this and has already resulted in breeding marsh harriers and bitterns. Spring and autumn are exciting times as a wide range of migrant birds can arrive at any time.

Potteric Carr's marshes support a wide range of plants providing a spectacle of colour throughout the summer. Plants include greater and lesser spearwort, water soldier, water violet and Southern marsh orchid. The disused railway embankments, constructed from magnesian limestone, encourage plants such as common spotted and bee orchids and old man's beard, Britain's only wild clematis.

Great crested and palmate newts are present in some of the pools and toads are common. Mammals include water shrew, water vole, harvest mouse and roe deer. The nature reserve is excellent for insects and other invertebrates too, with impressive lists of moths, spiders, beetles, bugs and hoverflies. Purple hairstreak and brown argus are among the 28 species of butterfly to have been seen, with 21 species of dragonfly noted.

Begin your journey at the Potteric Carr visitor centre. Find out more.
Seasonal highlights

Spring: Plants - Colt's foot; Birds - Black-necked grebe; Marsh harrier; Little ringed plover; Avocet
Summer: Plants - Purple loosestrife; Southern marsh orchid; Birds - Green sandpiper; Invertebrates - Banded demoiselle; Brown argus
Autumn: Birds - Little egret; Teal; Gadwell; Willow tit; Mammals - Roe Deer
Winter: Birds - Bittern
History

The mosaic of habitats we see today is largely due to management work by the Trust's staff and its hardworking volunteers. In the 16th Century the area was a small part of the Hatfield Royal Deer Chase but it eventually fell out of favour due to being continuously flooded. Over a period of 150 years various attempts were made at draining the area, the final successful attempt being in the 1760s. In the 1950s coal seams from Rossington Colliery penetrated under the area. Over the next 15 years, as subsidence occurred, the fen conditions returned together with the associated wildlife.

In 1968, a small area (13 ha) was declared a nature reserve by Yorkshire Wildlife Trust. Over time the area of the site was gradually increased by purchase or lease and, in 2005, was extended to 200 ha when a further 75 ha of former farmland was purchased and major developments took place to improve habitats and visitor facilities and create a new extensive marsh.
Directions

Public transport
Regular buses run from the Frenchgate Interchange in Doncaster to Lakeside and the White Rose Way. Alight by B&Q, opposite Onecall and cross the White Rose Way at the traffic lights. The nearest train station is Doncaster.

By car
Coming from Doncaster take the White Rose Way (A6182), at the roundabout follow the directions for the M18. Potteric Carr Nature Reserve is signposted. From the A1 (southbound) come off at Junction 35 for the M18, then take Junction 3 towards Doncaster and follow signs for the A6182 (White Rose Way). At the first set of lights you reach, turn right into Mallard Way. Park at the visitor centre car park.
Corporate team building days
Nearby