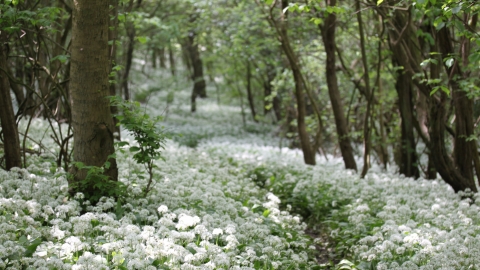 Hetchell Wood Nature Reserve
A mix of woodland, species rich grassland and wet flushes, Hetchell Wood provides a tranquil retreat on the edge of the conurbation of Leeds. The variety of habitats provide refuge for the rare species which were once widespread in the local landscape. The path network allows visitors to explore each of the habitats in turn along with other significant features such as the imposing rocky crags.
Location
When to visit
Opening times
Open at all times
Best time to visit
March to September
About

When visiting Hetchell Wood for the first time you soon become enthralled by its beauty and awakened to a landscape which appears locked in times gone by.

Walking through the woodland, evidence of historical coppicing for fire wood is all around. The multi-stemmed hazel stools grow back with vigour and the recent re-establishment of this ancient practice lets in valuable light to the woodland floor, igniting wildflowers from the soil's depths and promoting regeneration of the trees themselves.  

The grassland which lies at the centre of the nature reserve sits like a jewel in the crown, showcasing a once more widespread snapshot of how pastures used to look before intensive farming became common-place. A host of wildflower species are found here providing a valuable nectar source for a variety of insects.

Picture perfect images are created year-round with the stream at the bottom, which meanders slowly amongst the trees and the rocky outcrops alongside the bridleway.

The beech plantation provides dappled light and some magnificent mature trees which add further interest to an afternoon walk.  
Leeds Coppice Workers

Coppicing here is carried out by the Leeds Coppice Workers, who are a co-operative working group formed to produce local and ethically sourced wood products and provide jobs in Leeds. They also work at Townclose Hills Nature Reserve, which we manage jointly with Leeds City Council.
Seasonal highlights

Spring: Plants - Bluebell; Ramsons (wild garlic); Early purple orchid; Wood anemone; Greater stitchwort; Toothwort 
Summer: Plants - Thistle broomrape; Yellow archangel; Dyers greenweed; Birds - Blackcap
Autumn: Fungi; Birds - Treecreeper; Jay; Plants - Devil's-bit scabious
Winter: Birds - Tawny owl; Nuthatch; Mammals; Roe deer
Directions

Public transport
A bus runs via Bardsey, alight here and walk approximately 1 mile to the nature reserve.

By car
The nature reserve is seven miles north east of Leeds. If approaching from Wetherby via the A58 Leeds-Wetherby road, to reach the main entrance on Milner Lane take the left turn signposted Thorner at the Bracken Fox pub crossroads at Scarcroft. Keep left at a triangular intersection and the nature reserve entrance is on the left, 0.5 miles further on. There is also a public footpath (parking for a few cars) from the side of the A58 at Bardsey.
Nearby