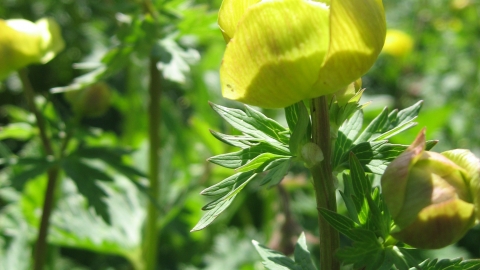 Globeflower Wood Nature Reserve
Situated towards the edge of the Malham Tarn basin, Globeflower Wood come late spring is a bright spot within the open upland moorland landscape. This is due to the high concentration of globeflowers and other tall herbs.
Know before you go
Entry fee
No
Parking information
A pull in area is available next to the cattle grid.
Access
There is no access onto the nature reserve but it can be viewed from over the boundary wall. This would not be possible from a wheelchair.
When to visit
Opening times
Open at all times
Best time to visit
May to September
About

Despite its small size, Globeflower Wood is of great interest due to the concentration of globeflowers and other tall herbs. The golden yellow globeflowers create a wonderful display, blooming alongside great burnet, water avens, meadowsweet and melancoly thistle. Large sycamores are in the drier eastern corner, whilst willow scrub with some hazel, alder and birch has developed in the wet area.

The nature reserve is a triangular limestone walled enclosure largely composed of ungrazed damp meadow fringed by various small willows.

Due to its small size and dampness the reserve is a fragile site and whilst there is a stone step stile in the wall there is no public access. The globeflowers and other plants can be easily viewed by looking over the wall.

The limited management of the site is essentially to help this small area remain frozen in time, ready for the opportunity for the flowers to spread back into the surrounding area.
Seasonal highlights

Spring: Plants - Water avens; Birds - Willow warbler
Summer: Plants - Wood cranesbill; Melancholy thistle; Globeflower; Meadowsweet
Autumn: Birds - Migrant hawker; Chaffinch
Winter: Birds - Robin
History

Globeflower Wood is one of the Trust's smallest and also oldest nature reserves. The site was aquired in 1963, when the farmer who had kept this parcel of land ungrazed, because he liked the display of globeflowers, decided to sell his farm, but wanted to ensure that the flowers were protected.
Directions

Public transport
The nearest train station is at Settle, with occasional buses to Malham.

By car
From Settle take the B6479 to Langcliffe. Turn right onto New Street in Langcliffe village. Stay on this road as it becomes Henside Road. The nature reserve is about four miles from Langcliffe and a mile west of Malham Tarn.
Nearby