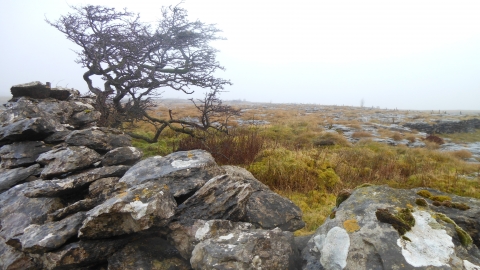 South House Pavement Nature Reserve
South House Pavement is located on the Ingleborough Massif and is a beautiful example of a limestone pavement with a mosaic of clints (blocks) and grykes (fissures). It is the botany with the grykes which makes this site of particular interest.
Know before you go
Entry fee
Free
Parking information
No parking on site. Nearest roadside parking on the B6479. Approx. 1.5km from the site entrance. Please note B6479 (Gauber Road) can be busy with fast traffic and poor visibility.
Walking trails
Public footpaths and open access land. There is a small gate into the eastern and western wall.
Access
Access is by permissive path from South House. Hazards include some unstable clints and grykes, and wet pavement can be slippery. No access for wheelchair users. Route to reserve entrance involves a 20 minute walk up a steady slope of mixed road, track and open field.
When to visit
Opening times
Open at all times
Best time to visit
March to June
About

Surrounded by dry stone walls, typical in the Yorkshire Dales National Park, South House Pavement Nature Reserve is a fantastic example of a limestone pavement. A great site for the sure-footed, the mosaic of narrow clints (blocks) and grykes (fissures) provides a wide range of climatic and soil conditions, leading to high botanical diversity. It does mean however that it can be rather difficult to venture across, particularly in wet weather when it is best avoided.

The pavement fissures support plants including meadowsweet, broad buckler fern and hart's tongue fern. The depressions in the limestone pavement allows the development of thicker, damp soil which support heather, while pink hairy stonecrop grows near pools of water on the bare rock.

Spring is the best time to see blue moor grass in flower, which is a nationally scarce species. It is when wheatear and meadow pipit also start to sing on site.

In summer species of interest within the pavement include ridgig buckler fern and hairy stonecrop. In autumn rowan and harebells provide some late season colour. In winter harts-tongue fern stands out as many of the other species have died back for the winter.

 
Seasonal highlights

Spring: Birds - Meadow pipit; Wheatear; Willow Warbler; Plants - Blue moor-grass; Water avens, Invertebrates - Orange tips
Summer: Plants - Rigid buckler fern; Hairy stonecrop
Autumn: Plants - Rowan; Harebell
Winter: Plants - Hart's-tongue
History

Features of historical interest include the eastern stone wall of the reserve which is likely to be of medieval in origin, and formed part of the Furness Abbey Selseth (Selside) vaccary (cattle estate). A (possibly medieval) sunken track was cut through the central part of South House Pavement to give access from the enclosures to the then open Fell Close. This is now a footpath through the site.

South House Pavement was once grazed, the rocky areas cleared in previous centuries. However the grykes in the pavement make it a dangerous site for livestock and there is no water supply. Management is now focussed on maintaining the dry stone walls and occasionally removing sycamore seedlings and rosebay willowherb which would otherwise grow and shade out the rich ground flora. The land here is part of the Ingleborough National Nature Reserve.
Directions

Public transport
Train (Settle-Carlisle line) station and occasional buses at Horton-in-Ribblesdale 2.5 miles away.

By car
Take the B6479 Horton to Selside Road and turn off for South House. The nature reserve lies beyond South House on the lower slopes of Simon Fell, east of Ingleborough Hill. There is limited roadside parking. Enter the nature reserve by a small gate in the wall.
Nearby