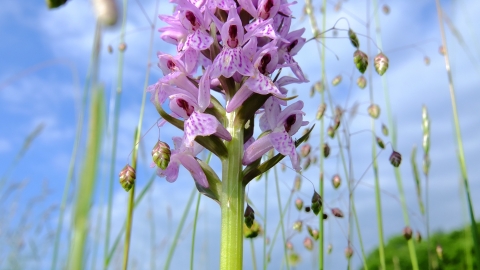 Ledsham Bank Nature Reserve
A botanist's dream come midsummer, Ledsham Bank is alive with colour from the fantastic displays of wildflowers.
Know before you go
Grazing animals
Cattle and sheep graze in the winter months.
Access
Access via the field
When to visit
Opening times
Open all year
Best time to visit
June to July
About the reserve
Situated in a north-south-running valley on the magnesian limestone, the nature reserve supports vivid spikes of pyramidal, common spotted and fragrant orchids which are scattered around the site creating an amazing show in June and July. Other typical limestone loving plants here include hoary plantain, yellow-wort, and impressive stands of the bright yellow dyer's greenweed – rare in Yorkshire. In spring there is a good show of cowslip across the site. Later in summer field scabious and common knapweed give showy purple and pink flowers. A mature hedgerow runs down the west side of the nature reserve, providing food and shelter for winter finches and thrushes. A surprising number of butterflies have also been recorded here including small and large skippers, common and holly blues and commas. The nature reserve is managed to enhance the limestone grassland by controlling invasive scrub and weed species such as ragwort, hogweed and burdock. Grazing cattle and sheep help with this management through the winter months.
Directions

Take Junction 42 off the A1 (M) towards Ledsham/Kippax. Cross the first roundabout and take the first exit onto the A1246 on the second roundabout. Take the first right onto Holyrood Lane, after approximately 800 metres park in the layby on the left. Access to the site is a little further along.
Seasonal Highlights

Spring: Plants - Cowslip, Holly blue
Summer: Plants - Centaury, Dyer's Greenwood; Invertebrates - Butterflies - Large skipper and Common blue
Autumn: Birds - Little owl and Nuthatch
Winter: Birds - Redwing, Fieldfare and Siskin