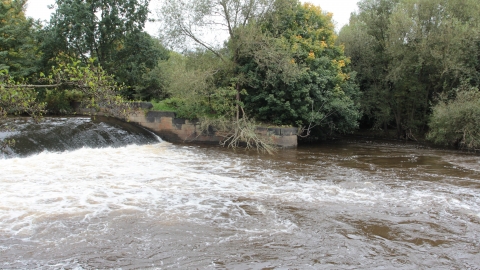 Kirkstall Valley Nature Reserve
Just outside the urban heart of Leeds, Kirkstall Valley Nature Reserve combines the industrial past with today's vibrant wildlife communities. A keen eye might spot otters or kingfishers by the weirs on the River Aire.
Know before you go
Entry fee
Free
Walking trails
Permissive footpaths.
Access
Permissive footpaths. Wheelchair access is limited; contact the Trust for more details.
When to visit
Opening times
Open at all times
Best time to visit
May to February
Before you visit
Kirkstall Valley is currently seeing a high level of visitors and an increased amount of litter around the reserve.

We'd urge everyone to follow our 'love and look after it' advice - take all your litter home, do not have barbecues or campfires and respect the nature and wildlife at the reserve. If you do see any anti-social behaviour, please contact the police on their non-emergency number 101.

Please keep your dog on a lead (more information below) and be especially aware of keeping to the paths and following signage around the reserve.
About

Situated on the site of former Kirkstall Power Station, Kirkstall Valley Nature Reserve is a fantastic example of nature restoration. The reserve now supports large areas of wildflower meadow and young woodland. Formed on a plateau of fly ash deposits and later landfill, the site was capped and seeded with native wildflower species in the 1990s, while shrubs and trees were planted around the edges. The area was noted for orchards in medieval times, Kirkstall now supports a good number of fruit trees including medlar, quince and five apple varieties, with recent additions of cherry, greengage, damson, pear and plum.

A variety of habitats have emerged; meadows sustain a myriad of insect life including the small copper butterfly, young woodland is rich with fruit bearing shrubs attracting feeding birds, ponds and ditches ensure robust populations of toads, frogs and newts.

Over 130 plant species have been recorded on site along with 65 species of birds including kingfisher and a number of mammals such as fox, as well as pipistrelle, noctule and Daubenton's bats. Otters may be seen by the old ford, which is generally impassable for most of the year.

Sixteen butterfly species have been recorded including comma and small copper and also six species of dragonfly.

Yorkshire Wildlife Trust manages the meadows through cutting and raking in late summer. The woodland is coppiced and thinned on rotation in the winter.

There is a bar at the City Golf club house and toilets used with their permission.
Seasonal highlights

Spring: Plants - Primrose; Apple tree blossom; Cowslip
Summer: Plants -Ox-eye daisy; Meadow vetchling; Invertebrates - Small copper; Amphibian - Common toad
Autumn: Plants - Sloe; Apple; Pear; Quince; Medlar
Winter: Birds - Goosander; Grey heron; Kingfisher; Bullfinch; Reed bunting
Directions

Public transport
There are regular buses along Kirkstall Road from Leeds City Centre with a bus stop at the end of Redcote Lane. Burley Park Railway Station is about 1.5 miles away or a 30 minute walk.

By car
The entrance to the nature reserve is towards the end of Redcote Lane (just off Kirkstall Road), past Fitness First and City Golf and just before the railway bridge on the right. There is parking here on the road near the entrance. Please do not block the gateway. It is about two miles from the centre of Leeds.
Nearby