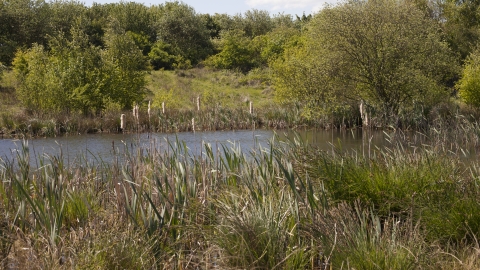 A peaceful spot away from the hustle and bustle of urban West Yorkshire, Rothwell Country Park offers the perfect weekend walk for families wanting time and space to take in the sights and sounds of nature.
Know before you go
Entry fee
Free
Parking information
Roadside parking is available at the top of Bullough Lane.
Walking trails
A choice of a pond trail and sculpture trail.
Access
Some parts of the site are suitable for wheelchair users and pushchairs.
When to visit
Opening times
Open at all times
Best time to visit
March to November
About

Rothwell Country Park provides a much needed oasis for quiet recreation and enjoyment which is of value to wildlife and people alike. The mosaic of wetland, woodland, meadow and bare ground, scrub and hedgerows means there is much to be seen on this site.

The ponds are home to the common frog and toad, smooth newt, and dragonfly chasers. The wildflower meadows include species such as ox-eye daisy, bird's foot trefoil, common spotted orchid and bee orchid. These in turn attract a variety of butterflies including the tortoiseshell, skipper and peacock.

Plantation woodland compartments throughout the site include tree species such as oak, field maple, scots pine and silver birch. Birds recorded across the site include skylark, linnet, cuckoo, yellow hammer, reed bunting, willow tit, and dunnock.

Mammals include hedgehog, rabbit, bats, red deer and fallow deer. In the autumn a wide variety of fungi species can be seen including the colourful fly agarics.  

The park boasts an extensive network of paths including a 'sculpture trail' and 'pond trail'. Follow the signpost to the 'summit' to enjoy 360 degree views over Leeds and West Yorkshire. The park lies in the south-eastern corner of the Leeds district, nestled between the northern flank of Rothwell town and the Aire and Calder Navigation Canal, making it easily accessible from the Trans-Pennine Cycle Way and other public footpaths.

 
Seasonal highlights

Spring: Birds - Willow warbler; Whitethroat
Summer: Plants - Bird's-foot trefoil; Invertebrates - Emperor dragonfly; Amphibians - Common toad
Autumn: Birds - Skylark; Tree sparrow
Winter: Birds - Willow tit
History

Rothwell Country Park used to be occupied by Rothwell Colliery, but following its closure in 1983 it became a post-industrial wasteland, remnants of which are still visible today.

Fortunately in the mid 1990s a partnership was formed between local people, Leeds City Council and Groundwork Leeds which saw a transformation of the area. Over the next 5 years extensive landscaping of the site allowed the land to be carefully reprofiled and tracts of meadow, woodland and wetlands were created. Finally on the 24th of June 2000 Rothwell Country Park opened to the public, providing this corner of Leeds with much needed oasis. In 2010 the Friends of Rothwell Country Park was set up to help manage the park for both people and wildlife. Contact either the Trust or Friends of Rothwell Country Park to volunteer on site and get involved with managing the site.

Rothwell Country Park is part of a corridor of green spaces in the Lower Aire Valley in Leeds which is owned by Leeds City Council and managed in partnership with the Trust.
Directions

Public transport
Regular buses run between Leeds and Rothwell, stopping on Leeds Road. 

By car
On the M1 south take Junction 44, and turn left onto the A639/Leeds Road going south to Castleford. Follow this road to Rothwell and take a left onto First Avenue. Rothwell country park is at the end of the road. Roadside parking is available at the top of Bullough Lane.

 
Sculpture trail

The Rothwell Country Park Sculpture Trail is situated on the former pithead and there are still relics of the industrial heritage of the site. A large open area, with a couple of picnic benches on, is the site of the stockyard and under the moss you can still see the railway lines in the concrete floor. There is a circle of road in the centre of the sculpture trail, which would have housed the mines' emergency gear platform on the curbed area.

The first sculpture you come to is called 'Breaking the Mould' by sculpture Andrew McKeown. It is a giant seed which has emerged from an industrial mould which represents new life and growth emerging from industrial decline. There are 21 of these stone and iron sculptures to mark each of the 21 'Changing places' regeneration sites across England and Wales. The sculpture celebrates and marks the £60 million Changing Places programme which transformed 1,000 hectares of post-industrial derelict land into parks and open spaces.

Breaking the mould statue by Andrew McKeown. Photo - Danny Hill

As you wander through the trail you will find a whole host of stone figures, willow arches and a sun dial.

There is a large domed metal sculpture towards the end of the trail and this is symbolic of the park and local area. The dome represents the pit heap and all the way around the sculpture there are people, trees, wildlife, the canal, railway, and the old colliery itself.

Figure 2 Rothwell Country Park Sculpture - Credit Danny Hill
Nearby