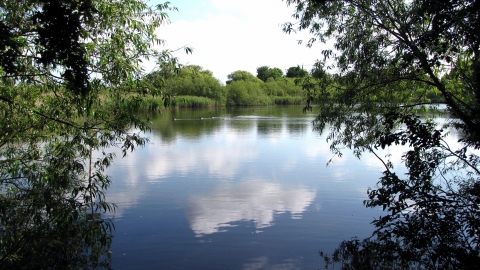 Saltmarshe Delph Nature Reserve
Please note that the the footpath and hide at Saltmarsh Delphe are closed at present for visitor safety during the coronavirus pandemic.
Saltmarshe Delph is a small nature reserve with a diverse mix of wetland habitats. For a small site some top quality wildlife can be discovered including birds such as marsh harriers and water rails.
Know before you go
Entry fee
Free
Parking information
Parking on lane.
Walking trails
Permissive footpaths.
Access
Permissive footpaths. Please contact the Trust on 01904 659570 for disabled access information - and see further information below. A Trans-Pennine footpath passes the site.
When to visit
Opening times
Open at all times
Best time to visit
May to September, November to February
Habitat
About

Open water and reedbeds contain lesser reedmace and attract marsh harrier and water rail, whereas in the woodland fringe mature willow, oak and ash grow. Birds of prey often frequent the site so make sure you take the occasional look up during your visit.
 
The site is divided neatly into two compartments by the Hull to Doncaster railway, known as the Delph and Willow Garth.

In the north east corner is an area of wet willow carr, a habitat which is full of song in spring with redient willow tit joined by reed warbler, blackcap and chiffchaff. Reed warblers breed around the lake and a small number of willow tits have previously bred.

In high summer, dragon and damselflies aplenty make themselves at home, with 19 species recorded. Other insects including the lesser stag beetle and ringed china-mark moth can also be found. This rich insect life in turn attracts bats including Daubenton's that skim low over the lake surface.

Winter is a great time to see hundreds of ducks of several species on the water including gadwell, teal and shoveler.
Seasonal highlights

 

Spring: Birds - Mute swan; Marsh harrier; Cuckoo; Sand martin; Sedge warbler
Summer: Invertebrates - Emperor dragonfly; Small red-eyed damselfly; Broad-bodied chaser; Southern hawker; Birds - Hobby
Autumn: Birds - Teal; Wigeon; Gadwell; Invertebrates - Ruddy darter
Winter: Birds - Great crested grebe; Willow tit; Water rail
History

The Delph was excavated in 1864 to provide spoil for the approach to the railway bridge close by. The Willow Garth to the west of the railway was commercially worked until 1956, providing materials to make agricultural baskets. In 1972 the site become a nature reserve. Yorkshire Wildlife Trust works to keep the ponds and reedbeds in their present condition and to control willow encroachment.
Directions

Public transport
The nearest train stations is at Saltmarshe, which is 2.1 miles from the nature reserve. A Trans-Pennine footpath passes the site.

By car
The nature reserve is 2.5 miles south east of Howden. Turn off the A614 roundabout signed Kilpin and Laxton. Take the Skelton road and proceed through the village, then turn left away from the River Ouse before the railway swing bridge. The nature reserve is 400m along the road to Saltmarshe.
Accessibility 
Many of our reserves are small and beautiful but remote. Visitors will have different access needs and abilities and we want to provide some basic information about the reserve to help you decide whether this is a place you would like to visit and to help you plan. 
Walking at Saltmarsh Delph 
This is a woodland and wetland reserve with 600m of mainly grass footpaths which create a circular route and can be very muddy during winter.  There are lots of tree roots and uneven surfaces across the reserve. Footpaths tend to be narrow.
There is one gate onto the reserve at the footpath entrance which is closed from April to July to protect breeding birds. There is one small pedestrian gate into willow garth.
Parking
A grass verge at the entrance to the reserve can accommodate three cars on a quiet country road with little traffic. 
Facilities
There is a very old hide built on stilts with steps and benches inside but is sadly not accessible for visitors with disabilities. There are no wheelchair viewing spaces.
The nearest public toilets are at a garden centre in the nearby town of Howden where you will also find other shops and amenities .
The reserve has a good mobile signal.
The What3Words code for the entrance is metals providing widen
 
Nearby