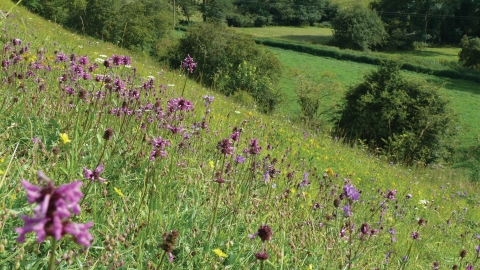 Brockadale Nature Reserve
Brockadale nature reserve is a jewel in the Yorkshire countryside and an invaluable space for protected wildlife species and local people.
Location
Know before you go
Dogs
- please see more information regarding dogs below.
When to visit
Opening times
The nature reserve is open at all times, but it can get very busy. If the car park is full or the reserve very busy, please consider coming back another time.
Best time to visit
March to September
About the reserve
Brockadale is a nationally important site for nature located is in the valley of the River Went as it flows through a craggy, steep-sided gorge formed after the last ice-age when glacial melt-water burst through the magnesian limestone rock. Now the river meanders along the flat-bottomed valley.
This site of Special Scientific Interest (SSSI) is particularly important for its ancient woodland, grasslands and flowery slopes, which have never been ploughed. Such grassland habitat is now rare, with magnesian limestone only existing in a narrow band stretching from Nottingham to Durham, its soil producing excellent farmland. The site's flowers only survive because the valley sides are too steep to cultivate.
Over 300 species of plants grow on the reserve, consisting of 33% of Yorkshire's flora and including 3 species of greatest conservation concern. Early flowers such as cowslip, common dog-violet and spring cinquefoil, well suited to the limestone soil, can be seen in spring. Native plants such as rock-rose follow, as well as orchids, salad burnet, yellow-wort, betony, field scabious and, in August, a profusion of clustered bellflower.
Butterflies abound in the meadows, with the spectacular marbled white and dark green fritillary unmissable in July. Day-flying moths like six-spot burnet and chimney sweepers are common, with close to 300 species of moths having been identified on site. The mixed woodland is home to woodland butterflies like speckled wood and white-letter hairstreak.
Around 40 species of bird breed on the nature reserve. Great spotted and green woodpeckers, nuthatch and long-tailed tit are resident, whilst warblers such as chiffchaff, willow warbler, blackcap and whitethroat are summer visitors. Yellowhammer and bullfinch are frequently seen in the hedgerows; kingfisher can be spotted along the river; and buzzard and kestrel may pass overhead.
Seasonal highlights

Spring: Plants - Wood anemone; Spring cinquefoil; Cowslip; Invertebrates - Orange-tip; Brimstone
Summer: Plants - Clustered bellflower; Rock-rose; Field scabious: Invertebrates - Dark green fritillary; Marbled white
Autumn: Fungi - Woodland fungi Birds - Fieldfare; Redwing
Winter: Plants - Stinking hellebore; Birds - Nuthatch
Visiting and looking after Brockadale

We're working to protect and manage this special place so it's a thriving home for wildlife. To minimise disturbance to wildlife, camping, cycling and rock climbing are not permitted.

Brockadale is seeing huge numbers of people visiting at the moment. Please help us look after wildlife including ground nesting birds this spring by keeping dogs on leads and stick to paths. Leave only footprints and park responsibly - the small car park can get very busy.

We are unable to fully close the reserve for a number of reasons. Because of this, we might ask people not to visit where we see real damage occurring to the reserve. This gives us a chance to assess the situation and repair any damage.
Walking your dog at Brockadale

We ask that you keep your dog on a lead at all times during your visit and pick up and dispose of your dog poo responsibly by either putting it in the bins provided, or if full, taking it home with you. This is because even a well-behaved dog can cause detrimental damage to the reserve:  

As dogs run and sniff around the reserve, they disturb animals and birds that are in the undergrowth. As an example, when an adult bird is disturbed and flies away, they may not ever return to their chicks. We want to ensure that Brockadale is a thriving home for a variety of wildlife, and minimising disturbance is an important first step.

We have livestock grazing our land. Not only can dogs disturb or even threaten livestock, there are several nasty diseases which can be transmitted to cattle via dog poo which can be life threatening. At the same time, dogs could be infected by similar nasty illnesses.

Dog poo does break down in the undergrowth, but it can also change the quality of the soil and can threaten the growth of specialist plants which our native wildlife depends on for food and shelter. In addition, simply putting it in a plastic bag and leaving it around the site doesn't look very nice and adds to plastic pollution which is now recognised as a significant threat to all wildlife. It is also a health risk to our staff working on these sites and to other visitors, especially those with younger families whose children may explore in the undergrowth along the pathways. There is a risk of ocular toxocariasis, which is a disease transmitted from roundworms to humans via fresh and old dog and cat poo. Although rare, it most often affects young children and can have severe effects including blindness.

We want to keep Brockadale looking beautiful! Thank you to all those dog walkers who are conscientious and considerate when bringing their dogs onto the reserve, helping to protect our wildlife from disturbance and disease.
Directions

Public transport
There is an infrequent bus service from Pontefract to Doncaster which stops at either Wentbridge, Kirk Smeaton or Little Smeaton.

By car
From A1 take Wentbridge and Kirk Smeaton turn. Drive east to Kirk Smeaton, go through the village to Little Smeaton and head north west up New Road. Once out of the village turn left down Leys Lane to the car park at the end.

 
323 plant species which equals 33% of Yorkshire flora
Home to highly threatened, irreplaceable habitat
3 species of greatest conservation concern
Nearby