Follow clues to discover wildlife on your doorstep!
Take part in our Wildlife Treasure Hunt to meet some friendly wild faces.
Setting up your Wildlife Treasure Hunt
Our treasure hunt comes in two parts:

illustrations to print or draw, to hide in and around your home (and tips for where to hide them)


clues to help your little ones find the hidden wildlife, and actions to do once they've completed the hunt
We've designed everything using everyday items around your house, so you don't need any special materials or knowledge. You're welcome to hide treats along the way for an extra incentive!


Share your butterflies!
Pick and choose the wildlife that's best for your family, but finish your Wildlife Treasure Hunt with the butterfly and help us to spread joy right across Yorkshire!
The last clue is a butterfly and we've included three full size illustrations for you to colour in. Stick them in your window to show your neighbours you've been on a wildlife adventure and make them smile!
And why not share a photo of your butterfly window with us on Facebook, Twitter or Instagram as well? Tag us with the hashtag #WaveOfButterflies!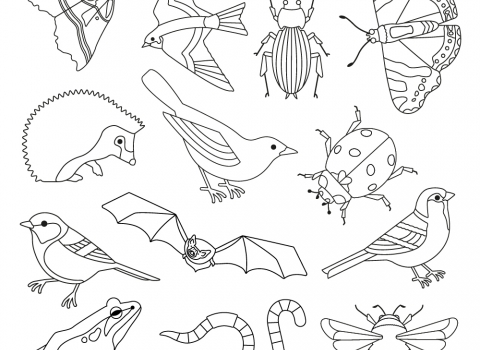 Wildlife illustrations and where to hide them
Download the wildlife illustrations and hide around your home or outside space. They can be printed off, or drawn or traced from a tablet or phone.
Our suggestions for hiding the treasures can be adapted to suit your space - whether that's inside or outside.
Top Tip: have intrepid treasure hunters colour in the illustrations before you hide them! That way they'll have a better idea of who they're looking for...
Download the pack!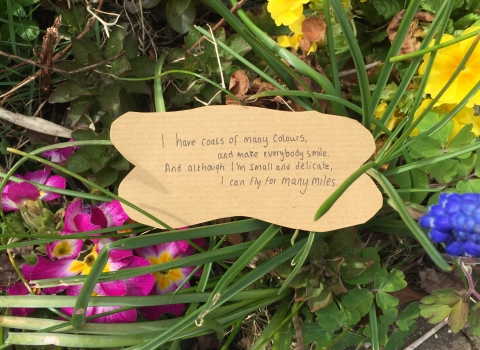 Clues and activities
Read out the clue for each wildlife treasure and let the fun begin! There are also activities that your little ones can enjoy after completing the hunt.
Pick as many treasures as you fancy - most are suitable for beginner explorers! You can also use them as a wildlife spotting checklist during lockdown.
And don't forget to stick a butterfly (or three!) in your window when your treasure hunt's complete.
Read the clues and activities!
Share the fun!
We'd love to see how you get on. Share your photos, videos and feedback with us on social media using the hashtag #WaveOfButterflies! Anything that puts a smile on Yorkshire faces during these uncertain times...